11 Things To Wear To Someone Else's Graduation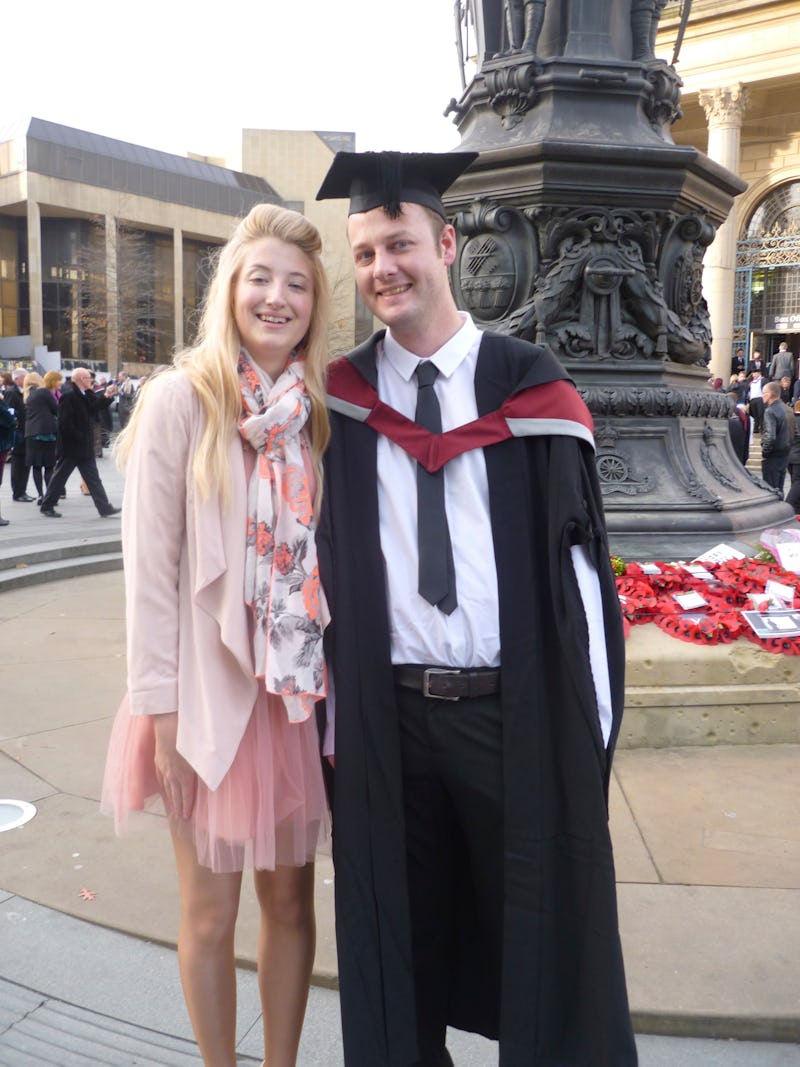 Being invited to celebrate a friend or family member's graduation is a huge privilege, especially considering some ceremonies have limited ticket numbers. You'll be super excited to cheer on your loved one, but one thing you might not have considered is what to wear to a graduation that's not yours. Your choice of attire for someone else's graduation may seem like a simple decision, however there may be a few things you hadn't thought about. Much like when you're celebrating anyone's milestone life event, you certainly don't want to take attention away from the person who has been kind enough to invite you to their celebration, by wearing something exceedingly flamboyant.
Choosing an outfit for someone else's graduation is a little like picking an ensemble for a wedding: There may be certain dress codes you need to adhere to, you likely don't want to wear the bridal party's color scheme (or in this case, the school colors) because these shades should be saved for non-guests, and you'll want to wear something appropriate. Depending on the educational institute, the whole affair is bound to be pretty formal, which means your outfit should be too. However, you should always feel comfortable in what you're wearing. The graduate won't be best pleased if their pleasure of the day is diminished by you feeling uncomfortable or out of place, or worse, moaning about your outfit and putting a dampener on the day. So here are some ideas of what to wear to someone else's graduation.
1. A Skater Dress
Lara Sweetheart Neck Skater Dress, $35, BooHoo
A simple skater dress is a great way to look dressy without going OTT.
Plus Natalia Crochet Detail Skater Dress, $35, BooHoo
For a more formal touch, go for a skater with a little extra detail like this crochet style.
2. A Blazer
Double Breasted Blazer Camel, $21, Miss Guidedus
A subtly chic, camel colored blazer makes a statement about your personal style, without screaming it from the rooftops.
Mix And Match Short Blazer, $58, Simply Be
Pair a navy blazer with something stripy for effortless nautical inspired style in summer, or wear it on top of a grey dress to a winter graduation.
3. A Pencil Skirt
Contemporary Stripe Pencil Skirt, $13, Forever21
A stripy design gives the classic pencil skirt a contemporary upgrade.
Plus Size Knit Pencil Skirt, $12, Forever21
Lovers of colorful clothes should choose a vibrant colored pencil skirt combined with plain separates, because bright colors and patterns might draw too much attention.
4. Wide Leg Trousers
Every Opportunity Pants In Black, $60, Modcloth
A pair of wide leg trousers make for a smart, statement piece in which to plan your outfit around.
Simply Chic Matte Jersey Wide Leg Pant, $60, Lane Bryant
Royal blue, wide legged trousers and a plain white blouse are a winning combination.
5. A Midi Skirt
Satin Pleat Midi Skirt, $40, Top Shop
A pleated, pink midi skirt will add a touch of femininity to any graduation guest's outfit.
Ruched Asymmetrical Midi Skirt, $27, Torrid
This ruched midi puts a literal twist on formal wear.
6. An Understated LBD Or LWD
Silence + Noise Scalloped Neckline A-Line Mini Dress, $40, Urban Outfitters
Spaghetti straps and a scalloped neckline give this simple LBD a fashionable edge.
Lace Trim Tiered Dress, $15, Torrid
A lovely, lace dress is the epitome of understated elegance.
Want more fashion and beauty tips? Check out the video below, and be sure to subscribe to Bustle's YouTube page for more hacks and tricks!
7. A Floral Vintage Inspired Frock
Hell Bunny 1950s Navy Rose Floral & Dot Short Sleeve Emma Swing Dress, $74, Unique Vintage
When choosing a floral dress for someone else's graduation, opt for a dark colored background and pale blooms.
Iconic By UV Plus Size 1950s Yellow Floral April Swing Dress, $98, Unique Vintage
Alternatively, if bright colors are your thing, pick a flowery frock which contains blooms in one bright shade, against a plain white backdrop.
Freelance Spirit Top In Dusty Blue, $16, Modcloth
A pussy bow blouse will put a sophisticated spin on the rest of your ensemble. This dusty blue blouse is available in sizes S to 4X.
9. Cool Cropped Pants
French Connection Culottes In Arrow Crepe, $130, Asos
A pair of pastel culottes are among the prettiest pants you could possibly wear to a graduation ceremony.
Cropped Gaucho Lava Lamp Pant, $89, Melissa Mccarthy
These quirky, printed pants scream, "I'm with the valedictorian!" The warm color scheme will really suit a summer or autumnal graduation.
10. A Smart Casual Jumpsuit
Asos Jumpsuit With Cut Out Cross Back And Wide Leg, $69, Asos
A smart jumpsuit needn't be boring – just check out this style with a cool, cut out back.
Plus Sophie Wide Leg Wrap Front Jumpsuit, $40, BooHoo
Go for an all out glam look with this all black jumpsuit.
11. Kitten Heels
Asos Honeydew Heeled Sandals, $41, Asos
If you're a perpetual high heel hater, choose a pair of smart kitten heels instead.
Torrid Insider Suede Lace Up Mini Heels (Wide Width),$56, Torrid
For something a little fancier, pick a lace up kitten heel for some major off-duty ballerina vibes.
These stylish pieces show that it's easy to shine without being in the spotlight when you're a guest at a graduation ceremony!
Images: Phoebe Waller; Courtesy Brands