Anna Kendrick & Justin Timberlake Sing A Fire Duet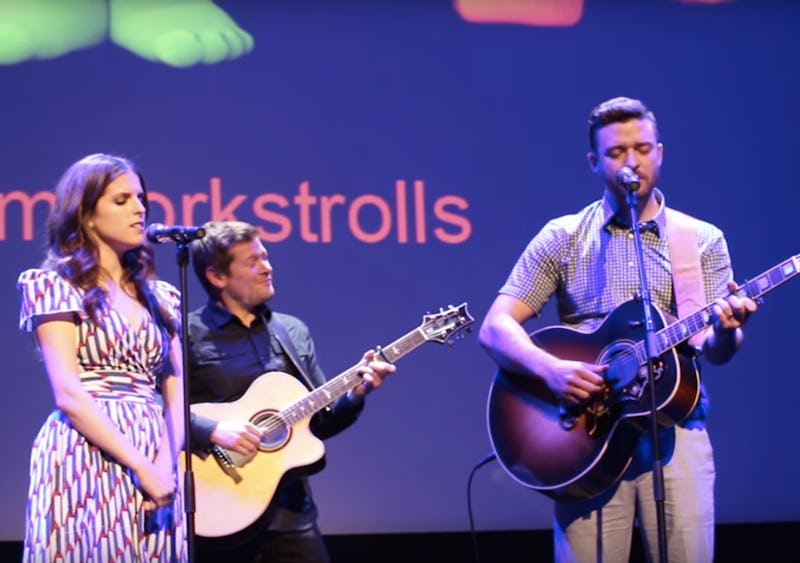 Celebrities! They're just like us. Except when they showcase that they have not just one, but multiple jaw-dropping talents that they could probably rake in millions with. The world received a beautiful gift this week: Anna Kendrick and Justin Timberlake sang a duet, which was performed at the Cannes Film Festival. There, they performed an acoustic version of one of the songs from the upcoming film Trolls' soundtrack, Cindy Lauper's "True Colors." If you're wondering how it went, well, Kendrick just went right ahead — no shame — and totally out-sang hit machine Justin Timberlake.
Kendrick and Timberlake are co-starring in the animated film as Princess Poppy and Branch, two trolls who venture "far beyond the only world they have ever known" to save their village, so presumably the performance was part of the marketing push surrounding the movie, which debuts in November. Appropriately enough, Timberlake is also acting as an executive producer for the film's music.
But I bet he felt pretty silly about being the so-called musical one out of him and Kendrick when they took to the stage at Cannes. While Kendrick has showcased her singing talents before in musical films like Camp and Pitch Perfect, she's an actress rather than a musician — which meant nobody could have expected a performance quite this good:
Smoothie Timberlake's completely professional in the intro: melodic, self-assured, suave. And perhaps he's a little too professional, because I'm not convinced by those closed eyes during the intro. Can he really be barreled over by emotion before he's even reached the chorus? In contrast, although Kendrick's also channelling some of that too-overwhelmed-to-sing-with-my-eyes-open musical gold dust, there's a sincerity and warmth in her performance that's lacking in Timberlake's. Maybe it's testimony to her acting chops, but I'm completely convinced. Although it's just a performance to market a film that's effectively one long advert for the product trolls, Kendrick's genuinely feeling the song. Her voice starts soft and tentative and gets bolder as she eases her way into the piece.
Still, Timberlake shouldn't feel too dejected. Kendrick's been singing since her earliest roles in showbiz. At the age of 12, she sang her way into a role in the musical High Society (something she won a Theater World Award for), while, just five years later, she sang in a New York City Opera rendition of Stephen Sondheim's musical A Little Night Music. So maybe it makes sense: at the same formative age that Timberlake was warming up his vocal chords with not-totally-difficult *NSYNC pop music, she was tackling opera. We — and Timberlake — should have seen Kendrick's more intense, emotional performance coming all along.
Images: thehollywoodnewscom/YouTube