How To Make A Caramel Waffle Cone Frappuccino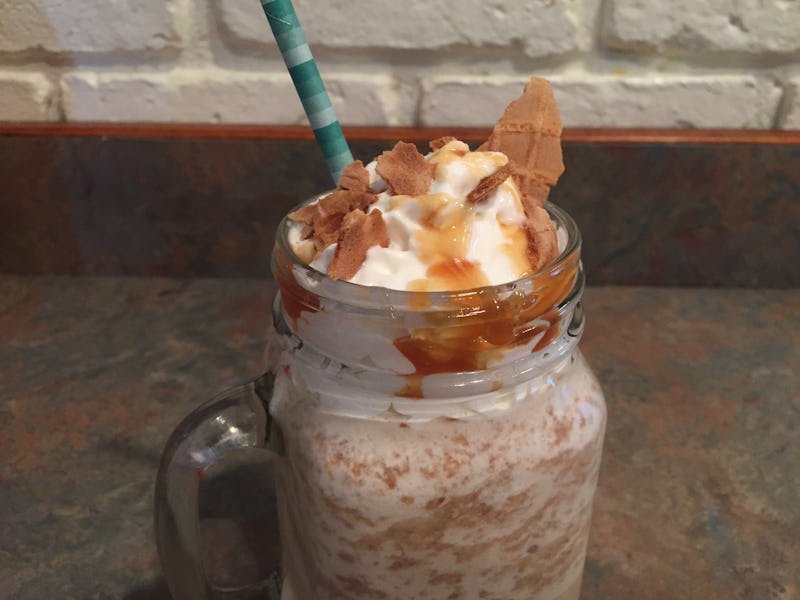 I look forward to May each year for a few simple reasons: the tulips are in full bloom, it's warm enough to wear open toe shoes, and most importantly, Frappuccino Happy Hour returns. Frappy Hour may be coming to an end on May 15, but if you know how to make a Starbucks Caramel Waffle Cone Frappuccino at home, it never has to end.
Summer hasn't started yet, but Starbucks has kicked off the season early with the Caramel Waffle Cone Frappuccino, just in time for its annual half price Frappuccino promotion. The new delicious blended drink, which is made up of a brand new waffle cone-flavored syrup, dark caramel sauce, coffee, and milk, is a sweet, nostalgic drink that's supposed to remind you of delicious carnival treats. Take it from someone who has tried one — it totally does. The topping of fresh whipped cream, pieces of waffle cone, and even more caramel sauce puts this already indulgent drink over the top.
Like most of Starbucks' seasonal drinks, this Frappuccino is only available for a limited time through the summer, while supplies last. If you've fallen in love with it as much as I have, you'll be glad to know making your own version of this summertime treat is one of the easiest DIY Starbucks Frappuccinos yet. Here is how to make a Caramel Waffle Cone Frappuccino at home. Trust me when I say your normal coffee routine just got a whole lot cooler.
Ingredients
1/2 cup milk
1/2 cup coffee
1 crushed waffle cone, plus more for topping
2 tbsp. caramel syrup, plus more for topping
Whipped cream
3/4 ice
Directions
1. In a blender, combine ice, coffee, and milk. Blend.
2. Add in syrup and crushed waffle cone pieces. Blend until smooth and creamy.
3. Serve in a glass, and top with whipped cream, caramel, and waffle cone pieces. Serve immediately.
The Verdict
Take a sip, close your eyes, and you'll be transported to the boardwalk... OK, not really, but close enough. This at-home version of the newest Starbucks creation is sweet and delicious, just like the store-bought version, only with the added bonus of the occasional waffle cone piece mixed in with the drink itself. I added extra caramel sauce to mine, because just like the perfect waffle cone this drink was modeled after, you can always ask for extra toppings.
Images: Sadie Trombetta