Who Is Santa In The 'Bachelorette' Cast Photo?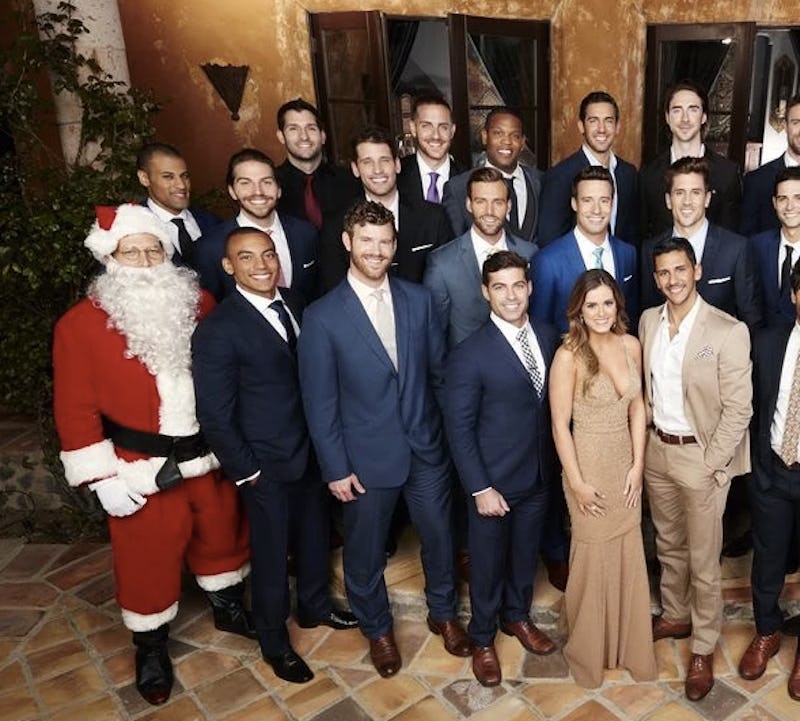 Joy to the world: The Season 12 Bachelorette contestants were revealed on Thursday (May 12)! Here we have 26 unattached hotties, all single and ready to mingle with JoJo Fletcher. While fans and loyal viewers will have to wait until the season premiere on May 23 to really see what these guys are all about, their official bios and pictures offer somewhat of a glimpse into their personalities — and into their personal lives. But while every contestant has a photo and a short blurb about himself, only one is inexplicably donning a Santa suit in the official group photo (which probably gives fans even more insight into the kinda guy he is, TBH). And since the snow-white beard, Santa hat, and old-man glasses kinda obscure his identity, it's time to discover exactly which Bachelorette contestant is the one rocking the Santa suit.
Based on the official photo caption (which fortunately lists each person in the photo, left to right, row by row), Santa is none other than Nick B., who is a 31-year-old electrical engineer (and apparently not a professional Santa). The tattoo-less, 6'1" cutie (and trust me, he's attractive underneath that whole Christmas-themed charade — see for yourself below), describes himself as "passionate, intuitive, athletic," and if he could be anyone in the world he'd be " the woman I want to marry so I could find out what's in her head," so that's interesting.
As for why he chose to wear the Santa suit in the group photo, it looks like we'll just have to wait until May 23 for that revelation. Lest we forget that contestants like to ham it up as soon as they step outta the limo (who can forget Fletcher's unicorn mask or Mandi's rose getup?), it looks like Nick B. — not to be confused with Nick S. (because there are a lot of contestants with the same name this season) — opted to go with a full-on Santa costume. I mean, hey, it definitely leaves a lasting impression... and maybe it says something crucial about his personality.
Since he's an electrical engineer, I can only imagine he's a pro at stringing Christmas lights. And since he also mentions in his bio how he's "never received a romantic present," maybe he wanted to give out gifts instead — like a giant hint that he's vying hard for a red rose. Guess we'll find out on May 23, when Santa Claus himself comes to town.
Images: Craig Sjodin/ABC