The 'Once Upon A Time' Cast Is Back For Season 6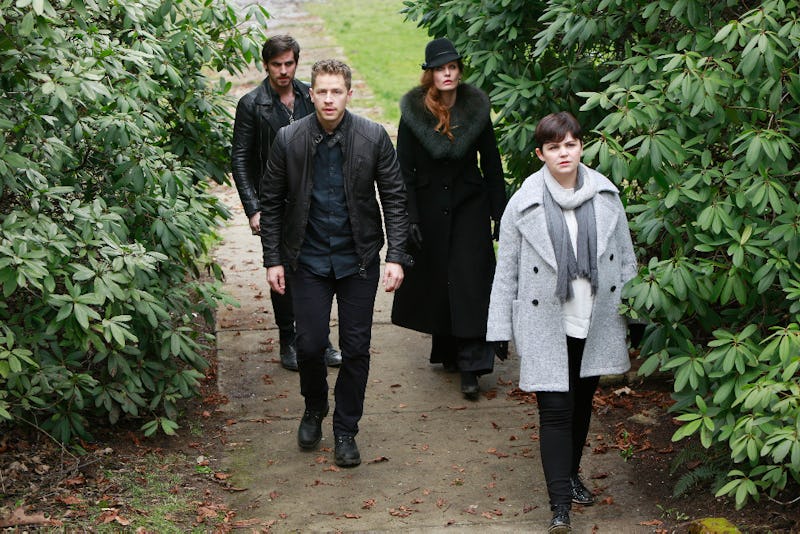 Once Upon A Time season finales are always fun, because they typically go big and set up the next big adventure with new and returning characters. The series has already been renewed for another season. So, which characters will be in Once Upon A Time Season 6?
There are two new characters coming as soon as the Season 5 finale. Hank Harris and Sam Witwer have been cast as characters in a mental institution. According to Entertainment Weekly, these two are not playing the Brothers Grimm, so who are they? According to the official ABC press release for the finale, "the group winds up in a deranged new world" after trying to return some stray characters to the Enchanted Forest. These new characters are listed as "the Groundsman" and "the Warden," respectively. The land also has an orderly and a librarian.
This series has referenced mental institutions before. The psych ward in Storybrooke contains allusions to One Flew Over The Cuckoo's nest. Both Dorothy on Once Upon A Time and Alice from Once Upon A Time In Wonderland were institutionalized. Does this mean that either of those characters could return?
Additionally, will Hades, Violet, and any other Season 5 characters return? Here are the regular cast members I think we'll see again.
Emma Swan
This is just a guess, but I feel like Emma's return is a safe bet.
Rumplestiltskin
His relationship with Belle is on the rocks. The show's main antihero is likely here to stay, but if I were to place bets on any major upcoming death — it's his.
Belle
I'd call this Instagram a good sign that Belle will be in Season 6. Wouldn't you?
Mary Margaret
She's got a baby to raise. Snow will almost certainly be back.
Zelena
Now that she and her sister have finally made up, I think the Wicked Witch might stick around. Just, like, ditch the boyfriend please. I'm over Hades.
Hook
You thought ol' Hook was dead for good — ha! Killian Jones is too scrappy for death.
Charming
He's had a few close calls, but the show is always finding new and interesting ways to push David's story.
Henry
Oh yeah, he's still here too. I'm kidding! As the Author, Henry is really coming into his own in a family of heroes.
Regina
As much as I would love it if Lana Parrilla got cast in a Star Wars film or, say, the Ant-Man sequel and took a OUAT break — she tweeted that definitely be back for Season 6. Unfortunately, I think that Robin Hood might be gone for good. Please, Once Upon A Time. Prove me wrong. Let's hope that either way, Regina can finally find some happiness that sticks this time.
Images: Jack Rowand (7), Eike Schroter