What Are The Odds Of JoJo Getting Married?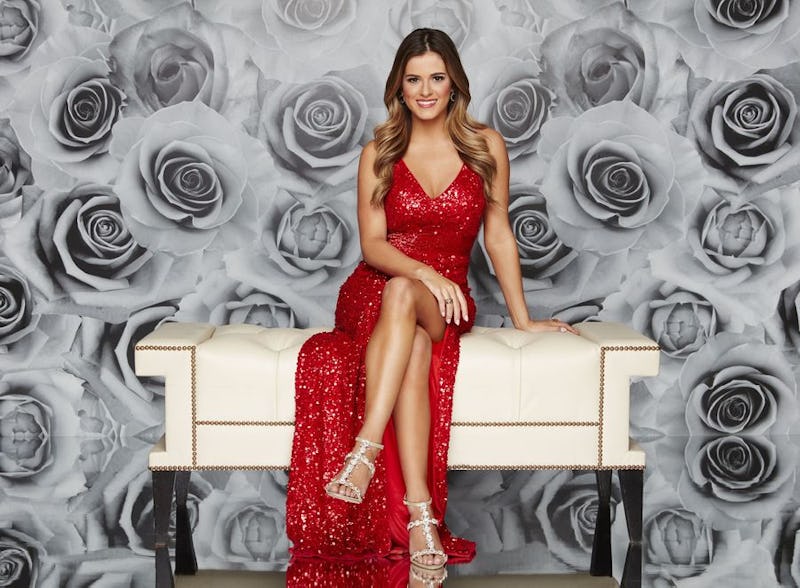 The time has come. The Bachelorette Season 12 premiere is nigh, and already I'm on the edge of my seat thinking about how it will all pan out. And you know what else? It doesn't end there. I'm in this for the long haul. When I partake in the glorious viewing experience that is The Bachelorette , I don't just stop watching when the show ends and the Bachelorette makes her final choice. No. I need to know what happens after After The Final Rose. Know what I'm saying? In other words, what are the odds of JoJo getting married?
I need to know if that TV love is real. I need to know if the contestants will ever actually get married. This year, I assume, will be no different. Once JoJo picks her soon-to-be-fiancé — that is, if she picks one at all — and presumably one of them pops the question, will the two end up tying the knot? There are a few factors to consider here. One, the percentage of Bachelorettes who have actually exchanged vows the vs. those who haven't — and perhaps what factors might have played into both of these choices. And two, if JoJo really seems ready for this. Like, really ready. A life time commitment is no joke, or so they say.
First things first, the bad news. Considering The Bachelorette's history, the odds are kind of stacked against JoJo. Out of the 11 Bachelorettes who have been chosen as leading ladies, only three have actually married their final contestant: Trista Sutter from Season 1, Ashley Hebert from Season 7, and Desiree Harstock from Season 9. Kaitlyn Bristowe from Season 11 and her winner, Shawn Booth, are still going strong, but have yet to make it official (legally speaking). So, in reality, only three of 11 Bachelorette seasons have ended in a marriage. That's 27 percent.
However, it's relevant to note that overall, Bachelorettes have a better sense of direction when it comes to picking their future life partner. In the world of The Bachelor, only one couple has tied the knot: Sean Lowe and Catherine Guidici. Unless you count Jason and Molly (Jason, Bachelor number 13, gave his final rose to Melissa Rycroft, but then broke up with her on the reunion, and proceeded to profess his love for runner-up Molly), that's one couple. One! Out of 20 seasons.
What I'm really trying to say is, by virtue of JoJo being the Bachelorette and not just another contestant on The Bachelor, her odds of getting married go up. Way up.
So, how did Trista, Ashley, and Desiree all find marital success? There seems to be no specific formulation here, no secret they found. At least, nothing more tangible than plain old intuition, something that probably falls under the principle of "when you know, you know." Hopefully, JoJo "knows."
Now, as for whether or not JoJo is ready for marriage, well, that I can't really say. Over the years, the upsides to being involved with The Bachelor/ette franchise have skyrocketed. In the beginning, people came on for love knowing that, if they left without it, they kind of left with nothing (except for maybe an interesting experience). Now, people go on the show with the awareness that it can bring exposure, fame, and other career opportunities. So to say that the contestants and leads of The Bachelor/ette go on the show 100 percent for marriage would be a bit misguided. That doesn't negate the fact that they could be ready for a serious commitment; it just adds to the possibility that it doesn't have to be the sole endgame.
I'm not saying that JoJo won't take this seriously. If her time on The Bachelor was any indication, we know that she'll put her emotions and heart into this season. JoJo has been open about wanting to get married and have a family. During filming, she told Good Morning America, "I want to be engaged. I want marriage. I want a family, so I feel like this could happen right now."
See? It could happen. She believes it, I believe it. Go ahead and beat those odds, JoJo. Show 'em how it's done.
Images: ABC; Giphy (3)