'SNL' Predicts Donald Trump's VP Pick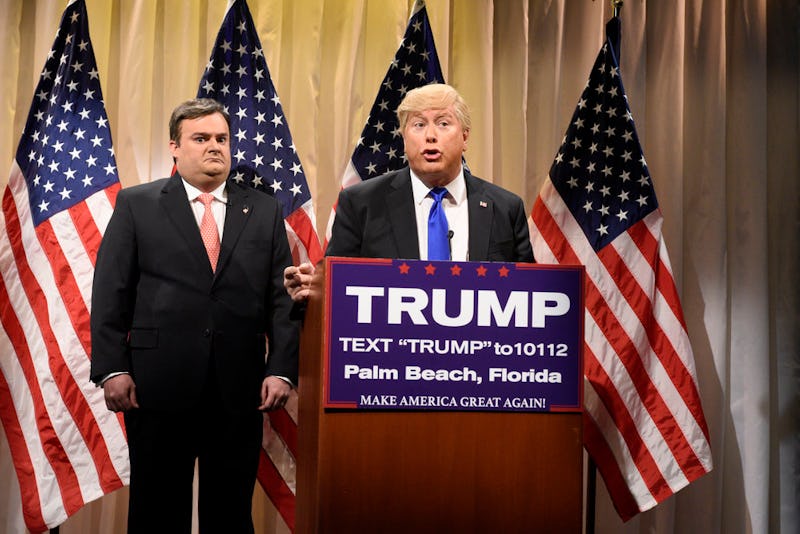 Now that he's all but officially the Republican nominee for president, Donald Trump has a big choice in front of him: Who will be his vice presidential nominee? He has plenty of former candidates and big-name Republicans to choose from, but Trump's choice could be as unexpected as his rise to the ticket. Over the weekend, Saturday Night Live imagined who Trump's vice presidential nominee could be — and who it almost certainly wouldn't be.
Saturday's cold open featured SNL's Darrell Hammond as Trump, a role he has quickly become known for. The scene showed Trump sitting in his office at Trump Tower in New York City as he ran through his options for the vice presidential spot on his ticket. New Jersey Gov. Chris Christie, played by SNL's Bobby Moynihan, joined Trump. The entire sketch wasn't just a play on Trump's veep options, but also on Christie's relationship with Trump.
The fictional Christie runs through Trump's options, including usual suspects like many of the GOP's former presidential candidates. There's nothing but boisterous laughter when Christie suggests former Florida Gov. Jeb Bush, and there's familiar name-calling when he gets to Florida Sen. Marco Rubio. "Oh, Little Marco? I can't ask him to be VP until his parents sign the release form," the fictional Trump said.
When Christie runs out of suggestions, it's Trump's turn. He suggests Ohio Gov. John Kasich, South Carolina Gov. Nikki Haley, and Texas Sen. Ted Cruz, to name a few. Apparently, none of them are interested. Then, Trump suggests House Speaker Paul Ryan. Ryan has become somewhat of a beacon of light for the Republican Party. Although he didn't win over enough voters in 2012 to become vice president with Mitt Romney, he has since risen to prominence. When former Speaker John Boehner retired, Ryan reluctantly assumed the speaker role. Since then, he has vowed not to run for president, although Republicans have all but begged him to do so in light of Trump's wild campaign.
If SNL is any indication, then those voters will have to come to terms with the fact that Ryan simply doesn't want the job yet. "He said not right now, but he'll see you in hell," the fictional Christie said in response to Ryan's name. Finally, Trump settles on former candidate and retired neurosurgeon Ben Carson as his vice presidential pick. Ultimately, neither Ryan nor Carson are likely picks for Trump, but he has indicated that Carson could have a spot in his administration. Meanwhile, Christie, one of Trump's most loyal supporters, may never make it onto the ticket.
Image: Dana Edelson/NBC