Xtina Aguilera Slays At Celeb Impersonations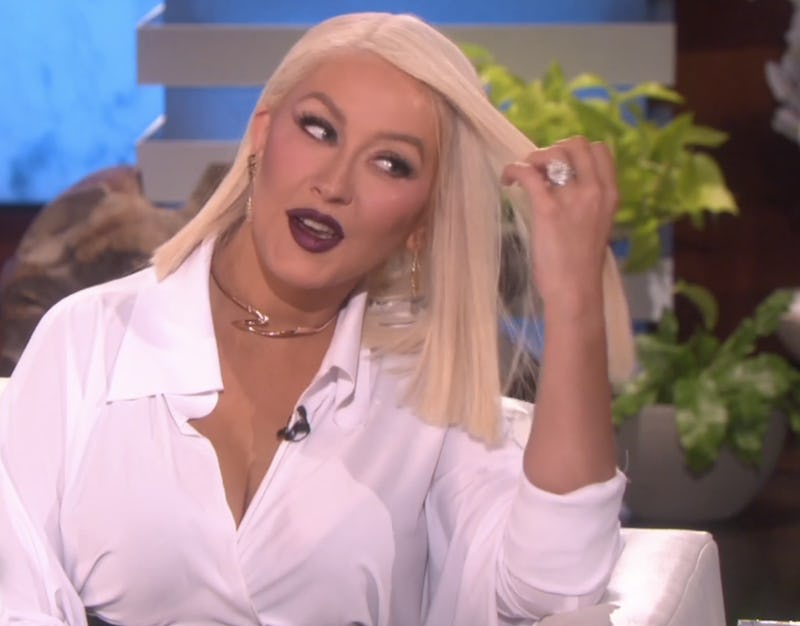 I'm definitely gonna take some flack from Britney Spears fans for saying this, but wanna see some proof that she wasn't the greatest pop star to come out of the '90s? Sorry for partying, but once you watch this video of Christina Aguilera impersonating other female singers, there will be no denying the truth. It's from Aguilera's visit to The Ellen DeGeneres Show in May 2016, and, aside from being entertaining as all get-out, it's also super impressive. In adjusting her voice to imitate others, Aguilera shows a range of skill and ability that I think is pretty unmatched in other stars.
Aguilera plays a game of Heads Up with Ellen, because it's only polite to do a round of the game your host literally invented, but, unlike regular versions, all the answers are female singers. And while Aguilera fell off a bit at the end, just naming songs as the time ran out and the pressure increased, at the beginning there she was doing some pretty flawless impersonations. Bow down, children of the '90s. Your Queen is still reigning.
She bails out on Lady Gaga and Barbra Streisand, but does a pretty solid Beyoncé and busts out a Whitney Houston impression — both of which were albeit made measurably easier by how recognizable the songs she chose — has a passable Rihanna, and absolutely kills Madonna, Adele, and Katy Perry. She sounds just like them. Which, let me say again, is an insane amount of vocal ground to cover. Those are two voices that have almost zero in common with each other, and yet Aguilera knocks them both out of the park like a real boss-ass B. Just take a look at this marvelousness:
Sorry, but can you imagine Britney Spears crushing a round of impressions like that? Nope. Not that she isn't wonderful and amazing in her own way, but these are some straight up vocal acrobatics, and nobody does them like Aguilera. She's been on top since the jump, and shows no signs of abdicating her throne anytime soon.
Image: EllenTube