Catch Up On 'Neighbors' Before The Hijinks Return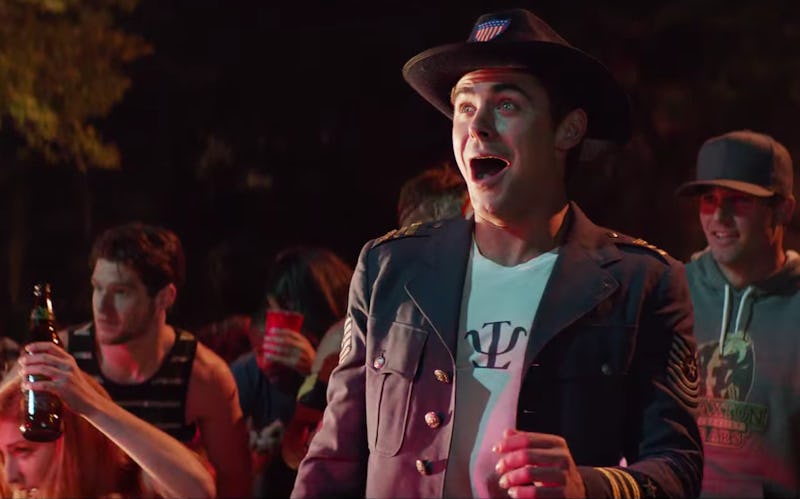 Girls are out to prove that they can do just as much property damage as the boys in Neighbors 2, the sequel to 2014's popular comedy, Neighbors . Fans of the original will remember that the film pits actors Seth Rogen and Zac Efron against each other as a new father (Rogen) who finds himself living next door to a fraternity, headed by Efron's character. What follows is an all-out prank war between the family and the frat that, at the time of the film's release, dominated the box office. This year, in Neighbors 2, it will be family versus sorority. The frat may be gone, but women-led Greek life has moved in to take its place, putting the family's house sale in jeopardy. But, before you get too hooked into Neighbors 2, you might want to watch the original first, which begs the question, is Neighbors on Netflix?
Unfortunately, Neighbors is not available to stream on Netflix. It is, however, available to rent on DVD — you know, that disk you would put in the box under your TV? So, if you have a Netflix account, you won't be able to stream Neighbors for free, but you'll be able to order a copy in the mail. Now, if you don't have a DVD player, then your best bet is to rent the movie online. Neighbors is available to rent and purchase via Amazon Video — for $3.99 and $12.99 respectively (subtract one dollar for SD prices). Neighbors is also available for purchase on iTunes, but not to rent, for $14.99 in HD and $9.99 in SD.
If, however, you don't want to spend money to watch Neighbors, but you do want to get pumped for Neighbors 2, here are a few movies streaming on Netflix that share stars with the comedy franchise.
The Interview — Seth Rogen
Ah, The Interview, otherwise known as the movie that almost started a war with North Korea. If all the drama surrounding this comedy's release hasn't already inspired you to watch this odd James Franco—Seth Rogen buddy-comedy, now could be the perfect time.
High School Musical 2 — Zac Efron
It's either this or Charlie St. Cloud, so don't be too quick to judge. Efron has come a long way since his High School Musical days, but it would be foolish to think some of his comedic chops put on display in Neighbors didn't come from his multiple appearances as Troy Bolton, the jock with the voice of an angel. HSM2 is definitely your best bet for Efron hilarity on Netflix — not only does it put him in pretty ridiculous outfits, the movie also features him prancing around on a golf course.
Hick — Chloë Grace Moretz
Before she was wreaking havoc as a sorority girl in Neighbors 2, Chloë Grace Moretz played a teenage girl with a gun, dead-set on making it to Las Vegas in Hick. The movie's not really a comedy, but it does co-star Blake Lively and Eddie Redmayne, so, it's definitely worth checking out.
Adult Beginners — Rose Byrne
Not unlike Neighbors, Adult Beginners features Rose Byrne adjusting to parenthood. The film's plot is focused on a man without kids who moves in with his pregnant sister and her husband, and works as a nanny to their three-year-old.
Don't worry, Neighbors fans, it won't be long until Neighbors 2 hits theaters and you can enjoy all the wacky, college shenanigans on the big screen.
Images: Universal Pictures; Giphy (4)