Nyle's Jive Was A 'DWTS' Judge Favorite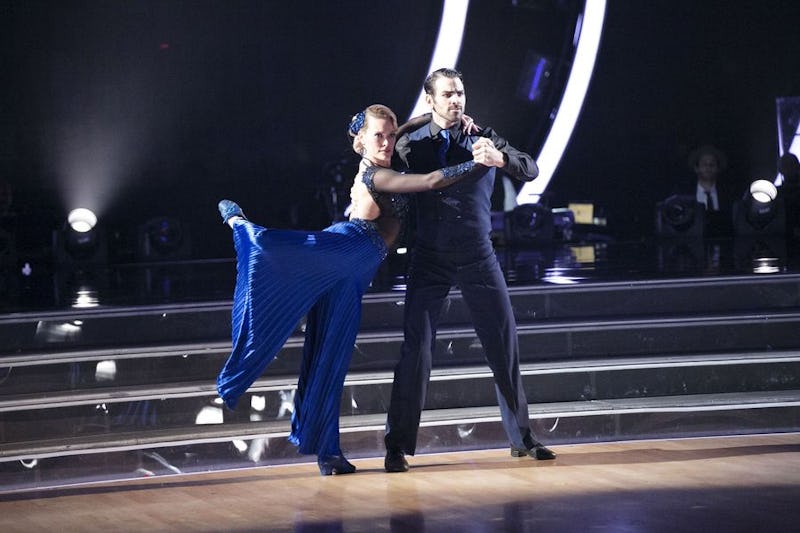 As if Nyle DiMarco couldn't get any better on Dancing With The Stars, he just hits the semi-finals and keeps on going. For this week, Nyle and partner Peta Murgatroyd were joined by Dancing With The Stars dancer Jenna, who helped them out with a gorgeous jive. Nyle's favorite part of the whole thing? Not dancing with two women (though I'm sure that that helped). It was that Jenna could speak to him in American Sign Language! Bolstered by the power of two talented women, Nyle danced one of his toughest dances in weeks, and the Dancing With The Stars judges loved it.
Though the judges were really into Nyle's dance, they did not award him perfect scores. The dance that Peta choreographed for Nyle and Jenna was very difficult — probably the hardest dance that he's had to dance so far — and Nyle did miss a few steps. So what? I couldn't dance a jive if I was moving with someone else's feet! Nyle's skill is really remarkable considering that he's deaf. He and Peta already speak their own language, so I think that having Jenna understand some ASL was helpful in getting her and Nyle up to speed for just one dance together.
Will Nyle win Dancing With The Stars? I'm not sure about that, since there are plenty of talented dancers left at this stage of the competition. However, Nyle deserves to win just based on sheer effort. He has persevered all season long to be able to dance like a professional without even being able to hear the music — that has to count for something, doesn't it? If Nyle doesn't make it to the finals, it will be a real shame — and a showing that America has no taste. Just kidding. Nyle does deserve to try his luck in the finals, though, and I'll certainly be voting for him.
Images: Adam Taylor