One 'Jane The Virgin' Star Is Headed For Broadway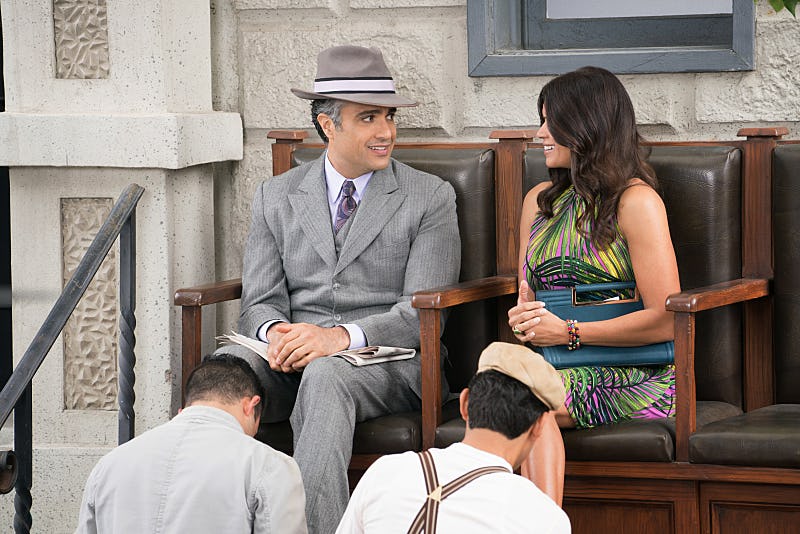 Have you heard the wonderful news yet? Jane the Virgin's Jaime Camil is set to star in Chicago at the Ambassador Theatre on Broadway. He'll be taking over the role of sweet-talking, razzle-dazzling lawyer Billy Flynn as part of the 1996 revival — his five-week run begins at the end of the month on May 31, and will continue until July 3. As you might expect, this isn't his first time on Broadway — he previously starred in 2005's Latinologues , and he's also led many a musical in his hometown of Mexico City, including popular shows like Aladdin and West Side Story.
The excellent news broke a few hours before Jane the Virgin's atom bomb of a finale, and it's nice to have some good news to hold on to throughout the show's summer hiatus. After all, all of us on #TeamRogelio know that Camil is going to make the best Billy Flynn that ever was or ever will be. As Rogelio, he's already more than proven his salt as the best man for the job — so, to celebrate his new gig, let's take a quick look at all of the reasons why this casting is genius:
1. He Can Sing
Perhaps most importantly of all, Camil can SING. He's sung quite wonderfully many times on Jane The Virgin (perhaps most memorably when he sang his own wake-up call), and he's also got a pretty impressive resume — he has an three years of opera training under his belt, as well as three albums.
2. He Can Dance
The guy's a classic triple threat — though we all know how his onscreen counterpart feels about that particular label. To quote the very quotable Rogelio, "I do not like to describe myself as a triple threat because that implies I am only good at three things."
3. He Has Chemistry with Everyone
As a smooth-talkin' lawyer, Billy Flynn's got charisma up to his ears. Know who else is insanely charismatic? Yeah, that's right.
4. He's Got All the Prerequisite Sass
It'll be fun to watch him get fed up with the never-ending shenanigans of Roxie Hart.
5. He's Charming as All Heck
Hey, there's a reason why the guy's never lost a case in his life.
6. He Can Nail Billy's Signature Flair For The Dramatic
It's the stuff of Broadway.
7. He's Got History As A Great Advocate for Women
As Tiago, he played the "nation's first male feminist," and he did it with every bit of aplomb you'd expect — so, let's just say he'll do fine as a lawyer who exclusively represents beautiful women.
8. He's All About Love
I think we can all agree that he's going to knock Billy Flynn's infamous song "All I Care About" right out of the park — that song will be absolute perfection when mixed with Camil's uncanny ability to merge starry-eyed wonder with mega-watted panache.
And last but not least?
9. He Knows How To Razzle-Dazzle
Come on, no one can razzle-dazzle quite like Camil. If his take on Billy Flynn is even half as razzling-dazzling as his take on Rogelio de la Vega, it'll be quite the performance to remember.
It's kind of a match made in heaven, no? A trip to New York City (with a ticket to Chicago on Broadway in hand) might just be in order.
Images: Michael Desmond/The CW; Giphy (5); grahamewill (2), talesofnorth (2)/Tumblr