J.T.'s New Music Video Features Some Amaze Dancers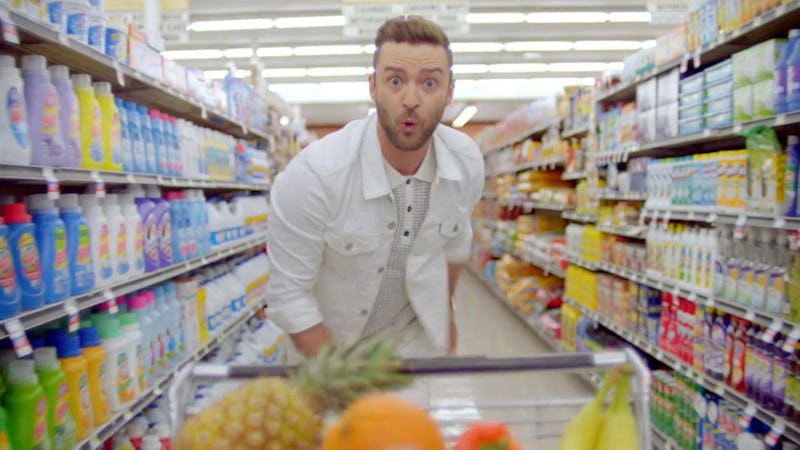 The day has come. No, not the apocalypse. That would be crazy though, right? Justin Timberlake has dropped the official "Can't Stop the Feeling!" music video — the video for a track that will also be a single from his upcoming film, Trolls. In the video, a dressed in all-white Timberlake dances amongst a group of people I can only discern to be his... friends? People who help him? One of the two. Probably both. Basically, the video takes us on a journey wherein we get to witness the moves of every-day service workers inside/outside of places like Randy's Donuts, the laundromat, the diner, the flower shop, and the grocery store. Now I know what you're thinking. First of all, thank goodness it's before Labor Day, otherwise JT would have needed to change his white outfit. And, second of all, who are these people in the "Can't Stop This Feeling" music video?
After these dancing citizens come together for one final under-the-highway dance-off (you know how those go) near the end of the video, their names are revealed. Turns out, unlike Timberlake's "first listen" video for "Can't Stop The Feeling" — which featured a bevy of celebrities — these dancers are just like you and me. But probably with better rhythm, and obviously a little bit more luck since they were featured in a Timberlake music video. Check out the infectiously upbeat video below if you haven't already.
Now, on to who these people are...
1. Cazzey
Cazzey, who works at Bernie's. (Where is Bernie?)
2. Cristy
Cristy, who's killin' the sweater game.
3. Dave
Dave! Where'd you get that rope?
4. Dennis
Dennis. Pretty stoked about pricing. You go see Dennis if you want to get a sweet deal on Mayonnaise.
5. Galen
Galen. Works at the infamous Randy's Donuts! Loves his life! (As would I, if my occupation was Donut Store worker person.)
6. John
Same.
7. Jonah
Damn Jonah! Back it again with whatever that is. (I like it.)
8. Justin
Who dis?
9. Lev
Lev took my move, but alright.
10. Maceo
Maceo took my other move, but alright.
11. Paloma
Paloma, what a ball of joy.
12. Philip
Philip. Man of my heart.
13. Richard
Woah, Richard. Don't fall.
14. Sara
Sara. In her zone. Outside of her blue house.
15. Stevie
Sass: defined.
It seems as if no one (not even Stevie!) can stop the feeling.
Images: JustinTimberlakeVEVO/YouTube (16)