Nick Jonas & Demi Lovato Slay On Carpool Karaoke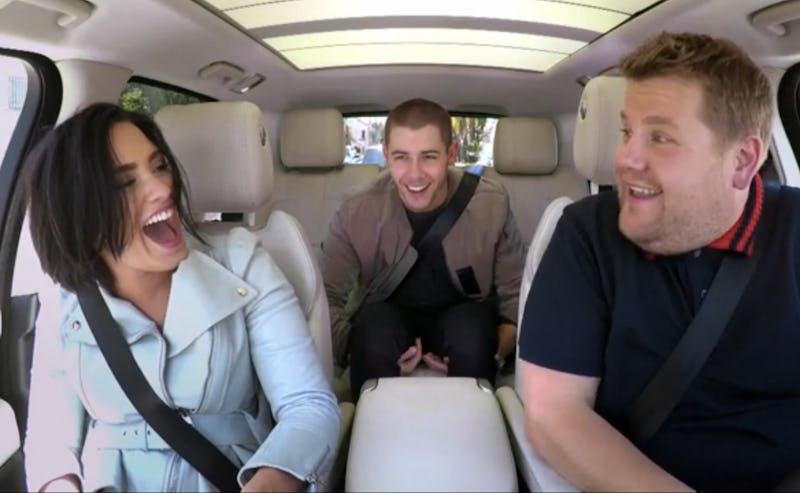 Demi Lovato just referred to her BFF and tour buddy Nick Jonas as "Lies-a Minnelli" and it needs to be discussed. Why? Because the two just took their friendship to a new level on James Corden's epic carpool karaoke, and a good pun never gets old. Get ready to experience some life-altering FOMO in 3, 2, 1, because Nick Jonas and Demi Lovato's Carpool Karaoke may just be the best one yet. At the very least, their friendship will give you some intense #goals.
It's known that, when one is cruising alongside James Corden in the streets of Hollywood, nothing is off limits. Combine that with the "Confident" singer's IDGAF (and will-never-GAF) attitude and I suddenly found myself in the trenches of poor little Jonas' love life. I loved every minute. I knew the two were tight, but seeing them pound it (seriously, they do it like it's an art) and air out each other's dirty laundry (mostly his) just changed things. As they gear up for their Future Now tour — kicking off next month and running through August — I'm over here searching hard for a ticket just so I can witness this chemistry in the flesh.
First, they talk love lives. "I kind of go for older guys," said Lovato. "No offense." But Jonas was nowhere near being off the hook. If there was ever any confusion about which Disney darling he courted back in the day, Lovato is here to clear that right up. "Cyrus, Gomez, Cyrus, Gomez," she claimed, while Jonas shook his head in the back seat. Leave it to the "Jealous" singer to make things sentimental. "I fell in love," he states truthfully and innocently, in regards to Olivia Culpo and his decision to ditch the purity ring.
But it's Jonas and Lovato's carefree attitude and nature that makes it clear their relationship is as pure as it is easy: A rare thing to come by these days. A new aspect of their personal lives are being put out there for the Internet to see, but it's like they're cool with it since they have each other. I'm screaming. What makes this even more glorious is their obvious support for each other. They know the words to each other's songs, and I don't think I truly lived until I watched Jonas embrace and belt out Lovato's "Heart Attack," which was way too enthusiastic to just have been learned in Future Now rehearsals, by the way.
In all seriousness, it's beautiful to see that amidst all their success — Lovato's 2015 Confident album, Jonas's 2014 self-titled album and, um, a tour — they've managed to remain so genuinely tight. Watching this for the third time, calling my BFF, then probs crying. Oh, and they talk about getting tied up, but I'll just leave this here for that...
Images: TheLateLateShowWithJamesCorden/YouTube