Season 4 Of 'AoS' Will Be A Little Darker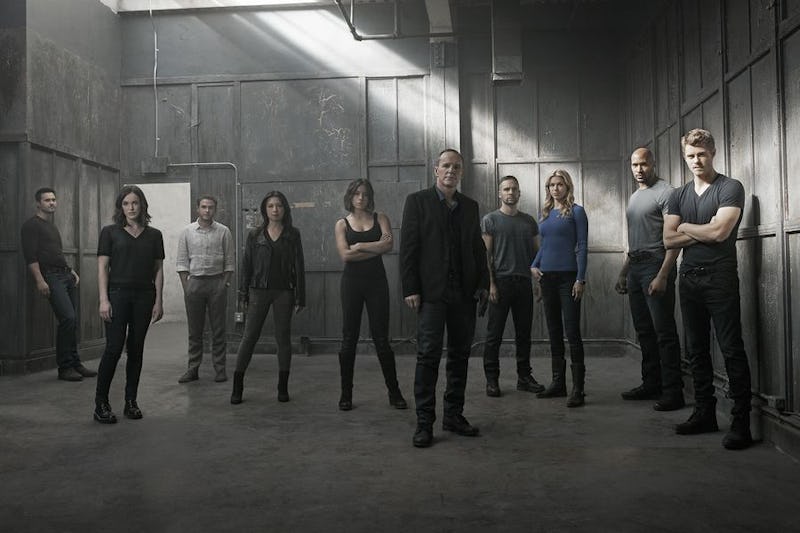 Agents of S.H.I.E.L.D. will soon be wrapping up its third season with an epic two-hour finale. While many fans may be preoccupied with worrying over how Coulson and his team will defeat Hive or who will become the fallen agent — though it certainly won't be Mack — I'm looking forward to the future. For those of us who can't wait for even more adventures with the Secret Warriors, there's one very important question: When is Agents of S.H.I.E.L.D. Season 4 going to premiere on ABC?
Thankfully, ABC renewed Agents of S.H.I.E.L.D. earlier this year, according to Marvel, but the network has yet to set an official premiere date just yet — which makes sense since Season 3 hasn't even concluded yet. But, let's take a look at previous seasons to see if we can get a rough estimation. The first three years of Agents of S.H.I.E.L.D. premiered late in September, either on the last or the second to last Tuesday of the month. So, following in that pattern, Agents of S.H.I.E.L.D. Season 4 is most likely to premiere either Sept. 20 or Sept. 27. That's quite a few months away, so to keep us busy until then, let's discuss what we want to see from Agents of S.H.I.E.L.D. when it returns for its fourth season.
First off, according to IGN, Agents of S.H.I.E.L.D. is going to air at 10 p.m. on Tuesdays, rather than 9 p.m., when it returns for Season 4. Plus, the later time slot will allow the show some new privileges in terms of what the storyline can follow. As IGN reported, ABC president Channing Dungey said the different time would allow Agents of S.H.I.E.L.D. "to go a little bit edgier, go a little darker and take some risks." Intriguing! Agents of S.H.I.E.L.D. has certainly gone to some dark places between Simmons being stuck on Maveth and Coulson killing Ward, but this could open up even more possibilities.
So what storylines could Agents of S.H.I.E.L.D. Season 4 possibly tackle? Well, since ABC passed on the spinoff Marvel's Most Wanted , I'd like to see the show bring Bobbi and Hunter back into the fold in some way. Their farewell may have felt incredibly final, but I'm sure the writers can figure something out. Another possible storyline is building up the Secret Warriors. Sure, the team of superpowered individuals appeared in Season 3, but only with four people. Let's see even more Inhumans join the Secret Warriors! (Plus, if the fallen agent turns out to be someone on the team, then they're going to need to be replaced.)
Of course, there are plenty of directions that Agents of S.H.I.E.L.D. could go in when the show returns for Season 4, but we know at least one way it probably won't go: Back to Hydra. The show seemed to finally, officially kill the beast and leave no room for another head to grow back — but who knows! Unfortunately, we'll have to wait until we're closer to Season 4 before we know much about what to expect from Agents of S.H.I.E.L.D. next year.
Images: Kurt Iswarienkio/ABC