Why May 17 Is A Big Day For 'Gilmore Girls' Fans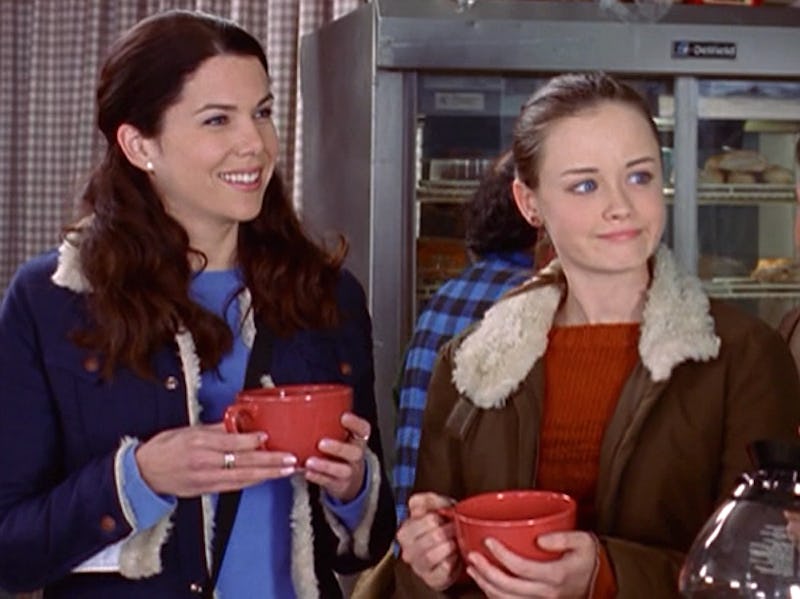 Let's take a walk down Gilmore Girls memory lane, shall we? Because there are so many important dates in Gilmore Girls history. After seven seasons and seven years of following those Gilmore girls through college, engagements, makeups, and break ups, there are a lot of reasons to celebrate the Gilmore Girls all year long. And since May 17 officially marks 11 years since Lorelai first proposed to Luke, after a long night of fighting with Rory and seeking solace in his diner, I felt inspired to compile a list of other important dates in the lives of these women.
Because everything that has happened to Lorelai and Rory Gilmore, in my book, is totally worth celebrating. Whether it's the first time they said "I love you" to someone audiences had been hoping they would hook up with for an entire season or the time all of their academic dreams came true, these are the important dates from the lives of those illustrious Gilmore Girls.
So break out your Google calendar and get ready to start entering these important dates that signified a whole lot of change for Emily, Lorelai, and Rory Gilmore. And keep the party hats on hand, because, um, there are a lot of them.
February 7, 2006: Rory Becomes The Editor Of The Yale Daily News
YAAAS. Slay, Rory, slay.
February 8, 2005: Richard And Emily Renew Their Vows
This is a biggie. Almost too big to get to everything. But it is also the 100th episode of the show, so that's sort of the biggest.
February 25, 2003: Rory Gets Into Harvard (And All The Other Schools She Applied To)
And all of her dreams come true. Sorta.
March 8, 2001: Dean Dumps Rory (For The First Time)
Hang tight, kiddos. There's a long romantic road in store for these two.
April 18, 2006: Lane Gets Married
Twice. Once for her Korean grandmother, and a second time for the rest of the town.
April 30, 2002: Jess Crashes Rory's Car
Remember, it was the one that Dean built for her. Commence a whole lot of romantic tension and drama that left every 14-year-old girl at home weak at the knees.
May 6, 2003: Dean And Lindsay Get Engaged
This was so weird. But if you're into celebrating Dean's bad decisions, by all means.
May 6, 2003: Jess Leaves Stars Hollow
And doesn't tell Rory. Bad move, dude.
May 8, 2007: Rory Graduates From Yale
One of the most momentous moments for the Gilmore family, and for the entire show.
May 9, 2006: Luke And Lorelai Break Up (For The Final Time)
And it's really just horrible for everyone. The fact that Lorelai then goes to visit Christopher afterwards certainly doesn't help the situation.
May 10, 2001: Rory Tells Dean She Loves Him (For The First Time)
They were so young once!
May 14, 2002: Lorelai Graduates From College
The first Gilmore to graduate from college over the course of the show was actually Lorelai. And when Rory didn't show up for the occasion (she was in New York, visiting Jess), her mother was not too happy about it.
May 17, 2005: Lorelai Asks Luke To Marry Her
In maybe the most clear-sighted decision she made over the course of all seven seasons, Lorelai asks Luke to marry her after a year of dating.
May 18, 2004: Lorelai And Luke Kiss
THE BIGGEST NIGHT.
May 20, 2003: Rory Graduates From Chilton
Don't lie. You cried your eyes out during this episode, too.
May 21, 2002: Sookie And Jackson Get Married
And it's the sweetest thing ever.
May 21, 2002: Jess And Rory Kiss For The First Time
Even though they keep it a secret, this moment is sort of huge, and definitely the beginning of their relationship.
September 20, 2005: Lorelai Adopts Paul Anka
The most important character of the entire show, if you ask me.
September 30, 2003: Rory's First Day At Yale
When Rory gets to campus, she learns that Paris is going to be her roommate. I guess old habits really do die hard. So do old friendships.
October 5, 2004: Luke And Lorelai Have Their First Date
And it's the official start to their very sweet relationship.
October 12, 2000: Rory's First Day At Chilton
And Lorelai's too. When she runs out of clothes to wear, this new Chilton mother shows up in cut-off jean shorts and a tie-dye T-shirt.
November 12, 2002: Rory And Dean Break Up (For The Last Time, Officially)
After 24-hours of straight dancing, though, I would too.
November 14, 2006: Christopher And Lorelai Elope In Paris
If you want to know my reaction to this moment in Gilmore Girls history, picture the emoji with the flat line for a mouth.
November 15, 2005: April Comes To Stars Hollow
And screws up everything between Lorelai and Luke. Juuuuuuust kidding. (No, but really.)
November 16, 2000: Dean And Rory's First Kiss
In a supermarket, no less. She should have known then that he was not the one for her.
November 19, 2002: Rory And Jess Begin Dating
After a lot of drama and even more will-they/won't-they debates, these two finally make it official.
So mark your calendars, friends. These dates are definitely worth celebrating in the life of any true Gilmore Girls fans.
Image: Giphy (26); Warner Bros. Pictures