Susan Sarandon's New Film Has The Sweetest Inspo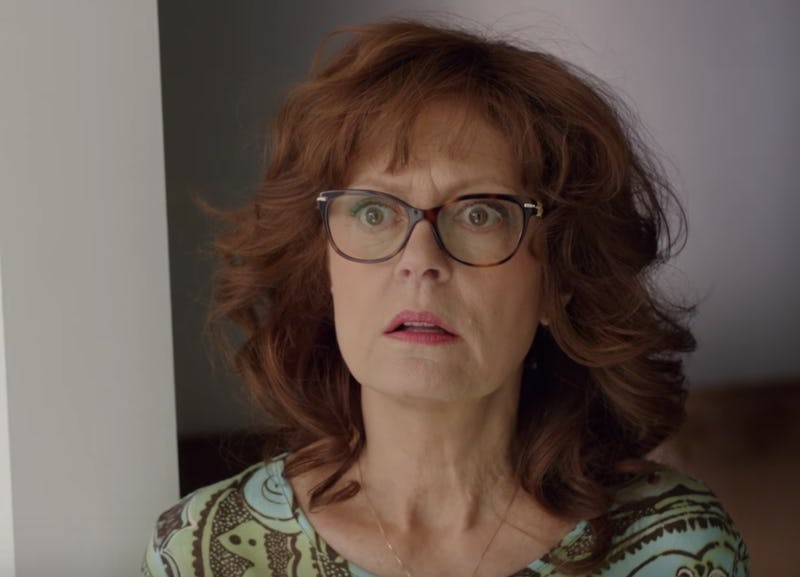 Anyone who's experienced the mother-daughter relationship knows that it can, to say the least, be complicated. So when director Lorene Scafaria made her latest movie, The Meddler, she focused on a the tricky relationship between a somewhat overbearing mother and her adult daughter. Scafaria drew directly from her own life to write the script, and while that might sound like a one way ticket to a major mother-daughter fight, casting Susan Sarandon as your mother probably lessened any sting her mom could've felt. In the exclusive behind-the-scenes featurette below, Scafaria and her real-life mother, Gail, reveal what it took for Sarandon to become The Meddler .
In the clip, Scafaria shares that she was inspired to write The Meddler after her mother moved from New Jersey to Los Angeles to be closer to her. "I don't think she was there more than a month before I started writing the script," she says, laughing. "It was so fun to think of my mom as a character." Though The Meddler isn't completely autobiographical, or even inspired by true events, Gail did provide plenty of the inspiration for Sarandon's character, Marnie, and as she makes clear in the clip, she was more than happy to do so; she even put herself in front of the camera to film a sizzle reel for Sarandon, complete with a voice-over to truly demonstrate her New York/New Jersey accent for the actor to copy.
But the story of The Meddler goes far beyond Scafaria and her mother. "It's been surprising how many people say that whatever it is about this relationship reminds them of their mother," Sarandon told Bustle in April about the response to the film. "Everyone goes, 'oh my god, I just kept thinking of my mom, I had to call her when it was over.'"
The Meddler, which also stars Rose Byrne as Marnie's daughter, Lori, and J.K. Simmons, will enjoy a wide release Friday, May 20. So, get ready to call your mother.
Images: Sony Pictures Classics