Felicity Learns The Truth About Her Dad On 'Arrow'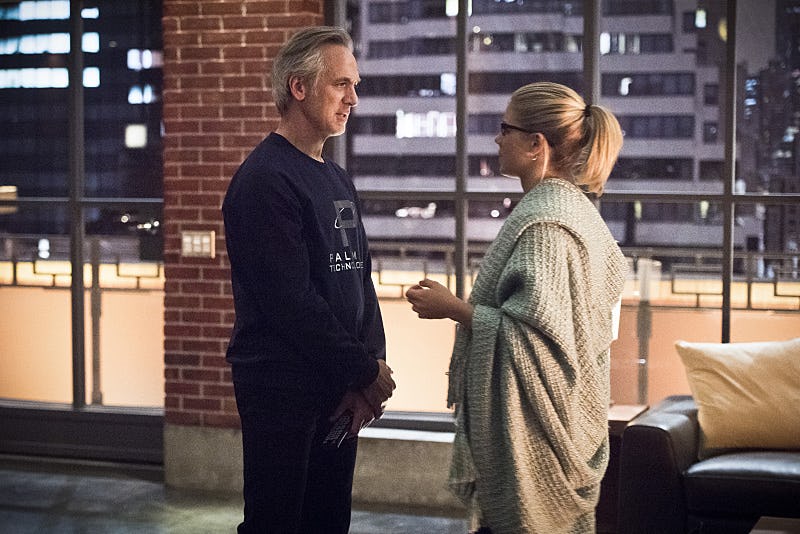 While a majority of Wednesday night's episode focused on gaining (and sometimes regaining) control of Rubicon, Arrow also found some time to reunite Felicity with both of her parents. And while Noah and Donna got along just as well as you would expect them to (in order words, not at all), it did provide viewers with some insight regarding the truth behind why Felicity's dad abandoned them all those years ago. It turns out that's not exactly what happened. Noah didn't leave them... they left him. And while Felicity seemed to take this surprise details fairly well, Donna still felt it would be in her daughter's best interest for Noah to leave since deep down he's still the same man he's always been. But is there a chance that Noah will return to Arrow at some point? I wouldn't rule anything out.
As of now Tom Amandes, who plays Noah Kuttler, has yet to sign on for any more episodes, but that doesn't mean it's the last we'll ever see of him. Just the fact he left in an attempt to do right by Felicity proves that maybe he really is a changed man. It just may take more time for Felicity and Donna to truly see that. Personally, though, I've loved watching our beloved Ms. Smoak get to know her father a little better and realize that he may not be the villain she's created in her head.
I also found it interesting how forgiving Felicity was to Donna, considering that's a major lie she's been keeping from her daughter. I mean, she allowed Felicity to think Noah didn't want her in his life anymore and yet she made it seem like this reveal was no big deal. How is she able to forgive this lie, but not Oliver's? Maybe this realization will allow her to see things different and help Olicity find their way back to each other. Hey, a girl can dream, right?
Image: Dean Buscher/The CW