Sara Ramirez May Not Have Left 'Grey's' For Good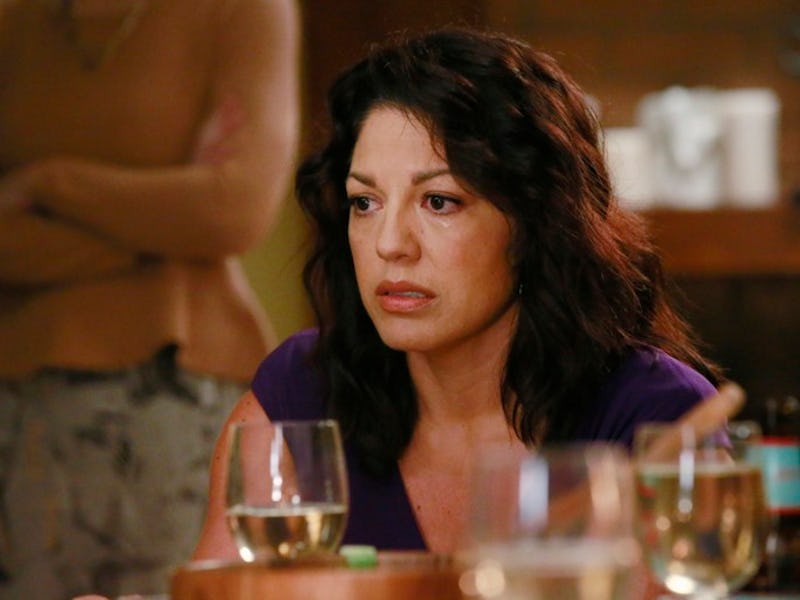 Callie Torres bounded into the world of Grey's Anatomy in Season 2 as a young, basement-dwelling orthopedic surgeon and she left at the end of Season 12 as a confidant doctor and mother ready to start over in New York. It has been quite a ride for the fan favorite character, but will Callie ever return to Grey's Anatomy? It would be shocking if she didn't since, after all, her daughter Sofia will remain in Seattle with her ex Arizona. Plus, it is hard to leave behind a decade's worth of friendships and career ties for good.
While there are currently no plans for Callie to appear in Season 13, the two women who have brought Callie to life all these years — Sara Ramirez and Shonda Rhimes — have been quick to classify Callie's exit as a break, not a final goodbye. In a statement to TV Line, Ramirez said, "I'm deeply grateful to have spent the last 10 years with my family at Grey's Anatomy and ABC, but for now, I'm taking some welcome time off." Meanwhile, Rhimes issued a statement promising Ramirez "will always have a home at Shondaland."
Given Ramirez and Rhimes' statements, it certainly sounds like fans have not seen the last of Dr. Callie Torres just yet. Thankfully, Callie's exit was of the moving variety rather than the more permanent goodbyes given to characters like Derek and George. Callie is simply moving to New York to continue her relationship with Penny, and anyone who has watched an episode of Grey's Anatomy knows romance can be fleeting for the doctors of Grey Sloan Memorial Hospital.
Besides, before Grey's Anatomy says farewell (which won't be anytime soon), Callie and Arizona have to reunite. No offense to Penny, but, in my humble opinion, Callie and Arizona had one of Grey's Anatomy's most beautiful love stories. Sure, things are rocky for the women now, but they will always share a daughter and a bond like that is not one that can be broken. If and when things go south for Callie and Penny, Callie will come home to her family and give the world another round of major Calzona feels.
For now though, Ramirez is taking some well-deserved time off. After a decade of playing Callie, she deserves a chance to explore other roles, get back to her musical roots, or just relax and read a book. Don't worry, Callie fans, your favorite doctor may be gone for now, but she will walk back through the doors of Grey Sloan Memorial again one of these days.
Images: Mitchell Haaseth/ABC; Giphy