Was The First Selfie Taken In 'Thelma & Louise'?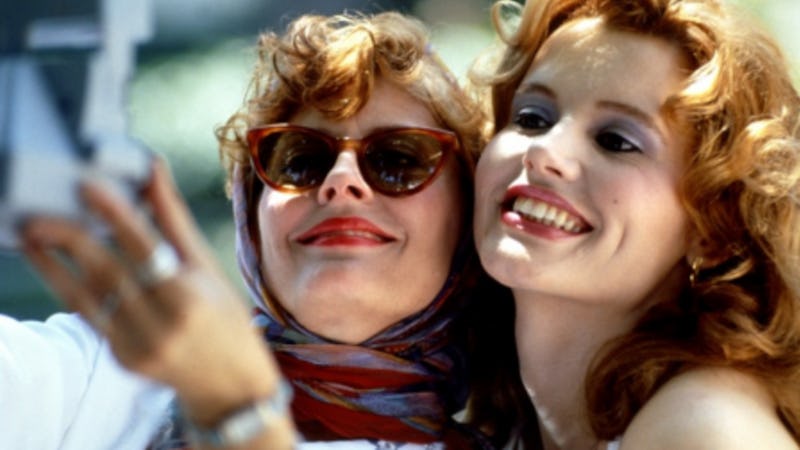 Taking photos of oneself is not an entirely new concept — it was featured in the film Thelma & Louise — but the "selfie" has never been more of a trending phenomenon than right now. The 1991 girl-power road trip movie showed the title characters (played by Geena Davis and Susan Sarandon) taking a Polaroid picture of themselves, but was the first selfie taken in Thelma & Louise? Back in 2014, Sarandon tweeted that she and Davis were the "inventors of the selfie" and they recreated the famous photo for Twitter. But unfortunately, that claim would be incorrect and the first-ever selfie was taken way, way before the 1991 movie.
According to many sources, the first selfie ever was taken by Robert Cornelius in 1839. Mashable reported that the 30-year-old man took a self-portrait in the back of his dad's shop in Philadelphia. ABC News reported in 2014 that the 25-year-old iconic Thelma & Louise photograph was actually the first on-screen selfie and it definitely wasn't the last. Since Thelma & Louise, selfies have been shown in many movies, even before it was called a selfie and it was merely known as "here, let's take a photo of us; no one else is here, but my arm is long enough!" Back then, there were no smartphones, so you just had to pray you both were in the frame and it was all in focus. Lucky for Thelma and Louise, the photo did work out for them.
Here are some other selfies to be familiar with throughout movie history.
The Cameraman
It could be argued, though, that Buster Keaton may have shot the first self video footage in this silent movie from 1928, but his camera was being controlled by a monkey, so it may not count toward it being a selfie video.
Stanley Kubrick
The legendary director was fond of photographing himself and his subjects through mirrors, like an old-fashioned selfie. He probably knew he was onto something big.
One Hour Photo
In this creepy 1997 thriller, late funnyman Robin Williams takes a selfie with a customer's camera. Probably not the best idea.
The Fifth Element
A selfie makes an appearance in this 1997 sci-fi movie starring Bruce Willis.
Amelie
This quirky Oscar-nominated French romp has several selfies (taken in an old school photobooth), which eventually brings the title character together with her soulmate in this sweet love story. She even takes some selfies and leaves them as clues for him to find.
Ellen DeGeneres At The 2014 Oscars
This one isn't from a movie, but it's still one of the most popular selfies in the modern world. The talk show host set out to take the most star-studded, retweeted selfie and she got her wish. This photo — which includes the likes of Bradley Cooper, Jennifer Lawrence, Kevin Spacey, Meryl Streep, and Brad Pitt — remains one of the most famous and it's still referenced today.