'Jessica Jones' Fan Fave Joins 'Iron Fist'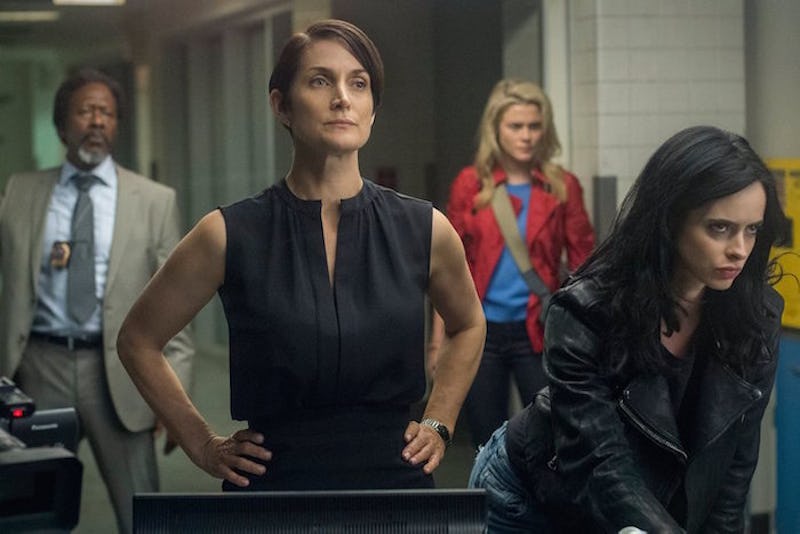 Netflix is keeping their corner of the Marvel universe as connected as always with the addition of Carrie Anne Moss to the Iron Fist cast. Moss is bringing the so tough she's scary lawyer Jeri Hogarth she originated on Jessica Jones to Iron Fist as an adviser to wealthy superhero Danny Rand. What you might not know if you are unfamiliar with the story behind Iron Fist is that Jeri is a regular character in the comics who has long been a key part of Danny's life.
Marvel comics fans began speculating Jeri would eventually join Iron Fist the moment Moss was cast as a gender swapped version of the comic book character Jeryn Hogarth. Now, Marvel and Netflix have confirmed their suspicions with an official announcement. According to Screencrush, Iron Fist showrunner Scott Buck said, "Danny Rand lives in the highest stratosphere of New York's business society and he's going to need a ruthless lawyer to help him navigate this alien world. I'm very happy to have the opportunity to bring Carrie-Ann Moss as Jeri Hogarth into Marvel's Iron Fist."
Iron Fist will mark the third Netflix Marvel series Jeri has appeared in so far. After working with Jessica Jones to stop Kilgrave, Hogarth appeared in the Daredevil Season 2 finale to recruit Foggy to join her firm. Now she is once again poised to play a strong supporting role in Iron Fist — but will her relationship with Danny be less contentious than the one she had with Jessica? The first teaser photo suggests things between Danny and Jeri could be a little rocky at the start.
Those files, which are presumably on Jeri's desk, appear to be comprehensive dossiers on Danny's family, the Rands, and his family's former friends the Meachums — the relationship between the two families is complicated by betrayal and outright murder, so make of Jeri's files what you will. On the one hand, it is good business to be informed about your clients, but on the other, it became clear in Jessica Jones that Jeri is always looking out for her own interests first.
If the show follows the comics, Jeri is headed toward having a strong relationship with not only Danny, but eventually Luke Cage. If the Neflix universe ends up forming Heroes for Hire, Inc., an organization formed by Danny and Luke to help those in need, Jeri will likely become their legal consultant. Her comic book counterpart is a major asset to the organization, and is instrumental in protecting Iron Fist from the government's interest in his gifts.
Iron Fist is still a long ways off — Netflix has yet to announce the release date — so for now just bask in the promise of more Jeri. Moss infused the character with a calculating edge that made her both unpredictable and a joy to watch on Jessica Jones. It is going to be a pleasure to see her interacting with more heroes and navigating the world of New York's most elite (and corrupt) members. And hey, maybe she will bring Foggy along for the ride as well.
Images: Netflix; Giphy