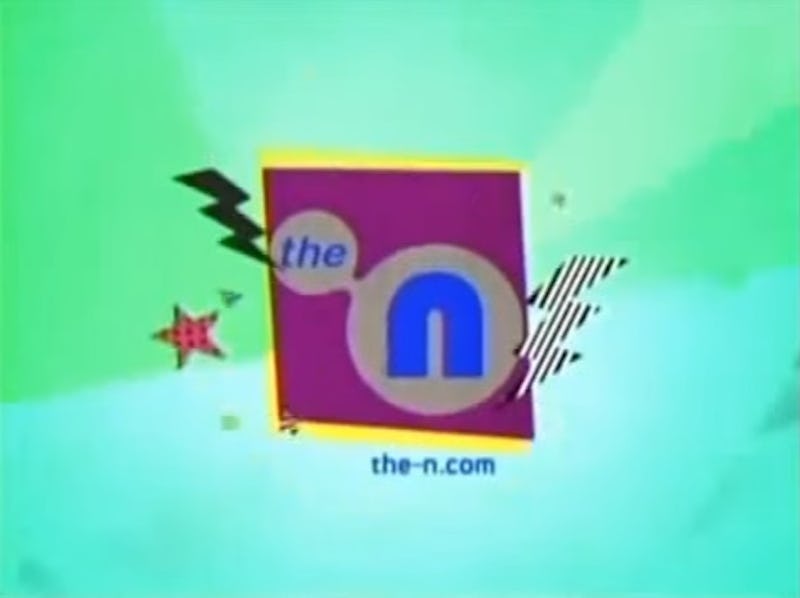 Everyone is nostalgic for '90s era Nickelodeon, old school Disney Channel, and all of those wonderful TV blocks like TGIF and Must See TV, but where is the nostalgia for The N? You remember The N, it appeared on the scene in 2002 and gave you Degrassi: The Next Generation . The teen channel lasted less than a decade before it morphed into the less distinctive TeenNick, but The N is still the best forgotten TV channel ever.
Before MTV found its creative groove with Awkward and Teen Wolf and just as The WB was losing its edge, The N arrived and gave '00s era teens a lineup full of entertaining, risqué programming addressing real teen issues while also scratching your already growing nostalgia itch with reruns of Saved by the Bell and Moesha. Between 6 p.m. and 6 a.m. everyday, The N was the channel you turned to for music, addictive teen TV, and characters you could actually relate to. It was a magical place, but it also burned bright and fast. In 2009, Nickelodeon changed the channel's name and replaced The N's lineup of ambitious shows like South of Nowhere and Instant Star with reruns of Nick's tween live action fare.
The N is gone, and despite the continued success of Degrassi: The Next Generation (its latest incarnation streams on Netflix), it feels like it is also forgotten. This needs to be rectified because The N was the best. Here are 11 reasons why The N deserves to be remembered.
1. It Introduced U.S. Viewers To Degrassi: The Next Generation
If you lived stateside in the '00s then your weekly dose of Degrassi came from The N. Can you imagine life without Emma, Sean, and the rest of the original next generation cast? Because I know I can't.
2. The Programming Was Groundbreaking
Between Degrassi tackling teen drug use, sex, and abortion in a meaningful way and South of Nowhere presenting one of the most layered depictions of a young lesbian couple on TV, The N aired teen programming that actually had something to say. These were shows your parents may have been wary of you watching, but which gave you valuable information about growing up.
3. It Was One Of The Last Places To Watch Music Videos On TV
Instead of bombarding viewers with nonstop commercials during programming breaks, The N would show music videos for new pop hits. In an era where music videos were already starting to migrate to online platforms, The N let you get your Backstreet Boy fix in between commercials.
4. The Marathons Were Holiday Lifesavers
All night marathons of Degrassi got you through every holiday vacation in the '00s. Whether extended family descended on your house or you had zero spring break plans, The N had your back with 12 hours of your favorite shows.
5. It Aired Your '90s Favorites
Your '90s nostalgia is raging right now, but you were already feeling it in the '00s. The N knew exactly what you needed: endless reruns of Fresh Prince of Bel-Air, Saved By the Bell, and Moesha. All of the shows you wish were in one place now, all had a home on The N.
6. It Gave You Reality Show Goals
Girls v. Boys was the greatest reality show of the decade. Not only was it set in gorgeous locales like Hawaii, it also featured Degrassi stars Lauren Collins and Jake Epstein. I know I am not alone in being completely envious of every contestant who was on that show.
7. The International Programming Was Addictive
The N was big on importing teen shows from other countries, and those shows were almost always addictive. From the British boarding school drama 24Seven to the quirky New Zealand comedy Being Eve, the imports were always quality stuff. As an added bonus, you could impress your friends from school by talking about the cool British show you discovered.
8. Without The N, O'Grady Would Never Have Existed
Sure, the animation gave you nightmares and the show was unapologetic about its bizarreness, but every teen needs that one strange cartoon they grew up watching. For fans of The N, that cartoon was O'Grady.
9. The N Gave You Drake
You knew Drake back when he was Aubrey Graham. That is the level of cool you have thanks to all of those years spent watching The N.
10. It Gave You Teen Characters You Could Relate To
Whether it was the adorable Beans from 24Seven, Eve from Being Eve, or Emma from Degrassi, The N was overflowing with teen characters from every walk of life. The channel made sure you had diverse, flawed characters to love and root for, who also made you feel better about being yourself.
11. It Was A Channel Just For You
The N was aimed squarely at '00s era teens and it came along during a period when there was no other channel catering specifically to a teen audience. The WB and UPN were both airing programming for older audiences, and MTV was all reality, all the time. The N was only concerned with teens, and its mission statement was reflected in its programming.
The N is not as universal as Nickelodeon, but it deserves just as much love for carrying you through those awkward teen years.
Images: The N; Giphy (2)