'Gotham' Will Return For Season 3 With A Vengeance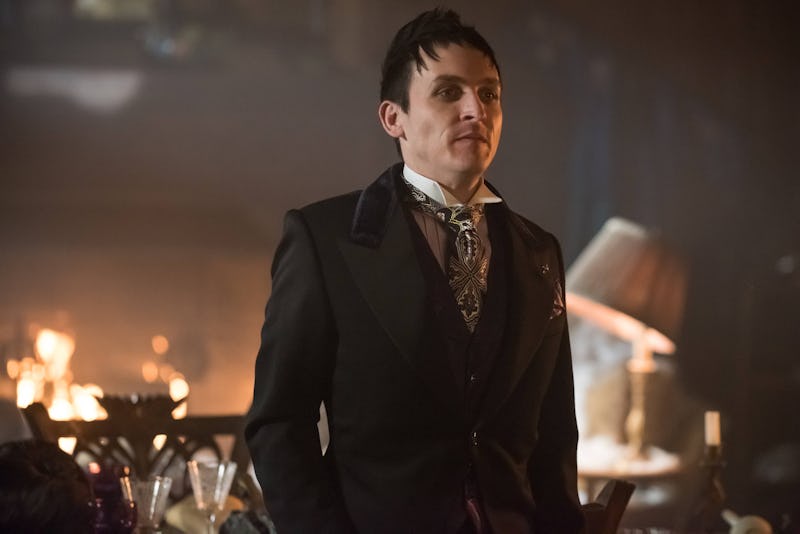 Though it didn't seem possible, things went from bad to worse during Season 2 of Gotham. Some baddies got badder (Oswald Cobblepot), others returned (Fish Mooney), and and some future villains finally gave in to their dark sides (Edward Nygma). With all of that in mind, I have no doubt that the Season 2 finale of Gotham airing Monday, May 23 at 8 p.m. ET should be a doozy. But will we be ready for when Gotham returns for Season 3?
Luckily, we have some time to recuperate from the exciting conclusion of Season 2 of Gotham, but it shouldn't be too long before we're back in the world of what seems like the most crime-ridden fictional city ever. Third time will definitely be the charm for Gotham as FOX announced that the Batman prequel will return for Season 3, as reported by Deadline in March. And it'll be right back in its regular Monday nights at 8 p.m. ET time slot when it premieres sometime in Fall 2016, according to FOX's primetime TV schedule for the 2016-2017 season unveiled during last week's Upfronts in New York, although the exact Season 3 premiere date hasn't been revealed yet. After Gotham's fall finale, it'll then return sometime in the spring as 24: Legacy takes its spot on the schedule for the winter.
It's a little difficult to tell where Gotham will be going in Season 3 before the Season 2 finale of the show has even aired. What's more, neither showrunner Bruno Heller nor any of the cast members have really spilled any deets about next season. Gotham probably won't start production on Season 3 until next month at the earliest since that's when Season 2 started filming, according to this tweet from the show's executive producer and director Danny Cannon posted on June 22, 2015.
But perhaps next season we could finally get more of a definitive answer about who the Joker and Harley Quinn are in the series, two beloved villains whose identities have been ambiguous so far but who fans really want to appear on screen. Plus, with those characters sure to be standouts in the upcoming Suicide Squad movie hitting theaters Aug. 5, Gotham may want to capitalize on all the buzz surrounding those villains, just saying.
It'll also be likely that we can look forward to more villains from Batman's huge canon to be introduced next season since each season so far has added more baddies to the roster, in addition to the ones we already know and love to hate. R'as al Ghul has often been seen on screen during the latest adaptations of Batman, from Batman Begins to Arrow to Legends of Tomorrow, so I, for one, would be curious to see Gotham's version of the villain.
But if you think this will be the season where we'll finally see Bruce don the iconic Batman cape and cowl, think again. Ben McKenzie, who plays Detective Jim Gordon, said that when the series was first brought to FOX, the network's entertainment chairman at the time, Kevin Reilly, told him that Gotham wouldn't be introducing us to Batman for quite a while. "This is not a show about Batman, per se. It's the development of Batman. It's everything leading up to him putting on the cape and cowl," McKenzie recounted during a Gotham panel at Wizard World Chicago Comic Con last August, as recorded by ComicBook.com. "The last frame of the last shot of the last scene of the last episode of whatever season that may be is Bruce putting on the cape."
So unless you want Season 3 of Gotham to be its last, it sounds like we're going to have to wait a while before Bruce actually becomes Batman. Since I'm not ready to see Gotham go just yet, I'm perfectly fine with waiting for that big moment.
Images: Jeff Neumann/FOX; Giphy