5 Things You Should Know About Menstrual Hygiene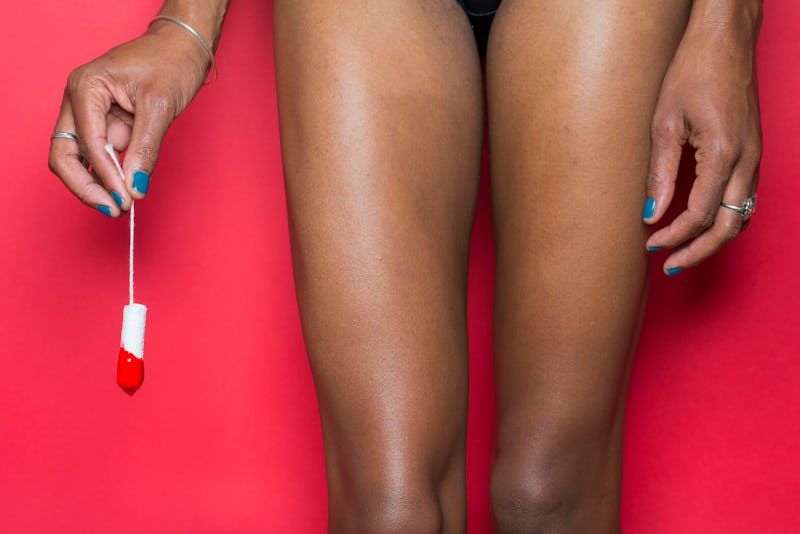 Say your period appears a few days earlier than expected. Now, imagine what you'd have to do to quickly and discreetly get your hands on a tampon. It may be as easy as popping into your coworker's office and asking her if she has a spare, or driving to the nearest pharmacy to purchase a box with your debit card. Unfortunately, while maintaining menstrual hygiene may be that simple for us, that's not the case for many other women around the world.
In case you missed the memo, we're still facing some pretty hefty menstrual health roadblocks. In some parts of the world, some girls don't even know what a period is until they get hit with their very first one, due to a lack of education and a menstrual taboo that promotes the idea that periods are shameful or dirty. They may be so humiliated about even having a period that they don't ask anyone for a pad, leading to infections and other serious health complications.
Access to menstrual hygiene isn't just an issue that affects women in other countries, either. Bustle spoke with Chelsea VonChaz , co-founder of the #HappyPeriod Initiative, an organization that provides menstrual hygiene kits to homeless people in various parts of the United States who would otherwise have no access to such items. While VonChaz definitively says "there's a lack of resources" and "a crazy-ass stigma" around periods, she believes that if we keep arming ourselves with knowledge, we can work together to put an end to the dated menstrual taboo — and change the landscape for menstruating people everywhere.
Here are five things to know about menstrual hygiene issues today.
1. Most States Still Consider Menstrual Hygiene Products A Luxury
You may already know about the outrageous "tampon tax," but if you don't, prepare to be infuriated. Forty states still enforce a tax on the products people need during their periods, such as tampons, pads, and panty liners. On the other hand, things like anti-dandruff shampoo, men's hair loss shampoos, and even alcohol in some states are considered "necessities" and therefore don't get slammed with the same luxury taxes. (And let's not forget that condoms are often given out for free by many cities.)
To make matters worse, you can't purchase tampons using SNAP food stamps, even though they are just as much of a necessity as groceries. As a result, there are numerous low-income people in the U.S. who are essentially forced to free bleed when bringing home a nearly eight-dollar box of tampons during their period just isn't an option for them.
2. Many Girls Miss School Because They Don't Have Menstrual Hygiene Products
This is happening both abroad and in our own backyard. A whopping 30 percent of schoolgirls in Nepal don't go to school every month because of their menstrual cycle, due to cultural menstrual stigma and lack of hygiene products. They're left to use rags at best, but more often they utilize old newspaper, sand, and twigs, all of which can often lead to infection. In India, two-thirds of girls in eighth and ninth grades have to miss out on class during their period, and a third wind up leaving school entirely because they weren't provided with proper hygiene products.
It might surprise you to know that the same thing happens to some young girls and other menstruating people here in America as well, although not to the same extent. In New York City, where 79 percent of public school kids come from low-income families, countless girls feel too shy or guilty to tell their parents or teachers that they need tampons. "Some of them would just rather stay home or find themselves using one pad for the whole day," Julissa Ferreras-Copeland, the City Councilwoman in Queens told the Huffington Post.
How the government considers a hygiene product that would keep girls in school a luxury, I have no idea, but no student deserves to miss out on basic education just because of a normal bodily function.
3. Most Homeless Women Don't Have Access To Menstrual Hygiene Products
VonChaz tells Bustle she first got the idea for #HappyPeriod last year, when she was stopped at a red light in Los Angeles and a homeless woman was walking across the street. "All her clothes [and] her undies were dirty and stained," she says, and when she squatted down on the side of the street it was clear that she was menstruating. VonChaz happened to be on her period that day as well, which she says really made her realize the seriousness of the situation.
She immediately started contacting homeless shelters to see if there was anything being done for women like her. A representative told her that they didn't receive pads and tampons at the shelter to hand out, but that they did get things like shampoo, conditioner, and men's razors all the time. VonChaz was shocked, and she knew it was time to step up. That's when the #HappyPeriod Initiative was born, and now they've got eight chapters in different cities around the country dedicated to providing free menstrual hygiene bundles every month for homeless people who need them.
Because the government has been all but silent in response to this particular menstrual health issue, homeless women rely on organizations like #HappyPeriod to bring them what they need for a clean, safe period. Other nonprofits doing similar work include The Period Project and Distributing Dignity — but while these organizations raise funds to collect hygiene products for shelters, VonChaz and her #HappyPeriod teams are on site, providing street distribution of tampons and pads every single month. The women line up to receive a yellow bag of menstrual hygiene products they bring them, and VonChaz says they excitedly wait for their arrival each month.
"I'm called the hygiene lady," VonChaz says with a laugh. The response has been overwhelmingly positive, she says, and knowing that they rely on her to have a tolerable period is what has kept her going.
4. Some Transgender Individuals Have Periods Too
People primarily associate menstruating with cisgender women, but there are plenty of trans men who get their periods as well, and they often don't have access to menstrual hygiene products, either. In fact, homeless trans individuals face more discrimination in general than any other gender. The 2011 National Transgender Discrimination Survey showed that 29 percent of trans folks were turned away from shelters, and, out of the ones who were allowed into shelters, more than half were harassed and 22 percent sexually assaulted.
Because trans people are so often treated and looked at differently, they are often overlooked when it comes to menstrual hygiene as well. VonChaz and #HappyPeriod have been loud and clear, though, that the trans community is a top priority for them. Not only do they hand out the yellow bags of pads and tampons to trans people who need them, but they raise awareness about the fact that cisgender women aren't the only ones who get their periods. THINX's new ad campaign featuring a transgender man modeling their period-proof underwear is also helping raise visibility, and the quicker we understand that menstruation doesn't just affect cis women, the more likely homeless trans individuals will start to be taken care of better.
5. There Are Ways We Can Help Improve Menstrual Hygiene For People Everywhere
Menstrual Hygiene Day is May 28, so there's no better time to get involved. VonChaz insists that anyone can lend a helping hand to the #HappyPeriod cause, in all sorts of different ways. You could get in touch with local homeless shelters in your area and inquire whether a pad and tampon handout service is provided there. If there is, see how you can help, and if there isn't, see what can be done so that homeless individuals don't have to endure anymore embarrassment during their periods. If you live in a city where #HappyPeriod does street distribution, sign up to be a volunteer. Finally, you can donate boxes of tampons and pads to organizations like #HappyPeriod and Distributing Dignity whenever you'd like.
Another way you can improve period hygiene for menstruating people everywhere is simply by sharing information. Raise awareness of this cause by sharing articles on your social media accounts or sending articles to friends and family who don't know much about this particular issue. Send the petition to end the tampon tax to all your friends. You never know, they may jump on board and become an advocate for the cause themselves. Just speaking up on the matter and breaking period taboo yourself also goes a long, long way. If everyone understood how natural periods are, and how much menstruating individuals need products to help them get through each period safely, the world would be a very different place.
Images: Bustle; Chelsea VonChaz/YouTube; wearehappyperiod (3)/Instagram; Giphy