Best Memes & Reactions To Adele's New Music Video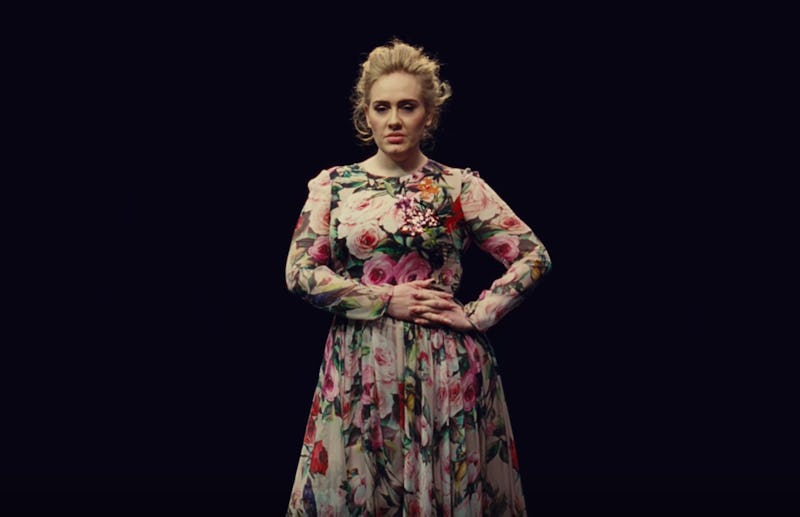 Adele wasn't able to attend the Billboard Music Awards, but she certainly made her presence known. Not only did the singer pick up an award, she also premiered her new music video for "Send My Love (To Your New Lover)." The highly anticipated video featured Adele standing tall in a gorgeous floral gown. Though the video didn't include any other players — no love interests here — Adele wasn't technically the only person on the screen. In the video, Adele multiplied, with overlaying images of the singer creating a gorgeous, and trippy, video. Fans jumped to Twitter immediately to comment on the video and, sure enough, the memes have only just begun. Overall, there were a lot of great reactions to Adele's new "Send My Love (To Your New Lover)" music video.
Most fans loved Adele's new video, but others were quick to point out the fact that it was pretty sparse. "Send My Love (To Your New Lover)" didn't feature any explosions or girl squads, à la Taylor Swift, but then again, Adele isn't exactly known for her flashy music videos. As you can imagine, fans were quick to jump on Adele's low-key approach to her video, as well as her sheer flawlessness onscreen. First, check out the video for yourself.
Now take a look at the stunned reactions below:
Others focused on the, uh, high of Adele's new video.
And then there were the countless jokes and declarations of love.
Slay, Adele, slay.
Images: Adele/YouTube