'Beauty & The Beast' Teaser Brings Famiiiar Voices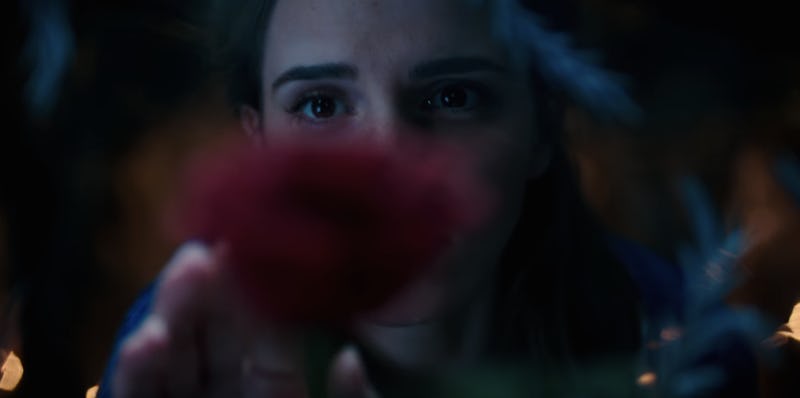 Disney is letting fans be their guests once again for the beloved tale of Beauty and the Beast. However, this isn't just another animated version of the classic tale. This time around, Disney is bringing the unexpected love story to the big-screen in its highly-anticipated live-action motion picture. And the first Beauty and the Beast live-action teaser trailer is full of the characters fans know and love from the original animated tale — even if we're just hearing their voices.
The film, which stars Emma Watson as Belle, doesn't hit theaters until March 17, 2017. Therefore, it makes sense that the first look doesn't seem to show much aside from bringing us back to the enchanted castle of our childhoods. But, if you're familiar with the story, just seeing images such as the entrance to the castle, the ballroom, and the rose is enough to get those nostalgic feels going. The French accent and hushed tones we hear in the around the 50-second mark alone are enough to jog your memory. So, who are those voices?
Obviously, Lumiere says, "Look, a girl!" followed by the clock, Cogsworth, in his usual grumpy tone, saying, "I can see it's a girl, you fool!" Then, following the brief argument between the two enchanted objects, we hear Belle's meek voice say, "Hello?" I'm not the one tearing up with childhood memories. You are.
Lumiere happens to be voiced by Star Wars star, Ewan McGregor, and Cogsworth is voiced by Lord of the Rings star, Ian McKellen, so the live-action Beauty and the Beast a star-studded cast you're unlikely to forget. But, as exciting as the new teaser is, there are still a lot more characters we are yet to be introduced to both looks and voice-wise when it comes to the latest feature.
Other actors set to appear in the film include Luke Evans as Gaston, Dan Stevens as the Beast, Emma Thompson as Mrs. Potts, Josh Gad as Le Fou, and more. However, with the film still a little less than a year off, I'm thinking it's going to be some time before we get another sneak peak. Until then, I will watch the teaser on repeat and allow my eyes to fill-up with tears — because this is just going to be too perfect.
Images: Disney Movie Trailers/YouTube