'Mulan' Is Leaving Netflix In June, You Guys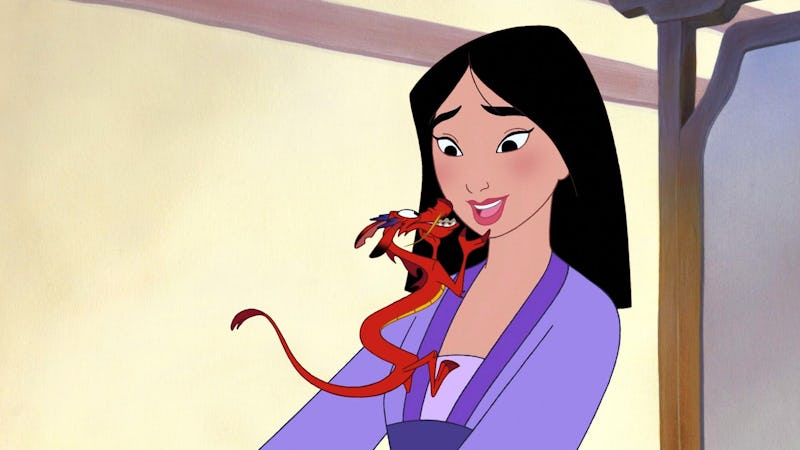 I can't be the only one who wishes Netflix would simply never get rid of anything ever. There's got to be some internet voodoo that can make that so. Right? But, alas, as of right now, the voodoo has not been discovered (or perhaps more accurately Netflix is just keeping it from us because they're mean), and, with the arrival of new Netflix content, out must go the old. It's the Netflix cycle of life and death, a necessary but horrible part of this crazy Netflix-and-chill world we find ourselves living in. Still, the awesomeness of the movies leaving Netflix in June make their losses so much harder to bear.
But despite the sad feels, I have faith that the new stuff — titles like the Academy Award winning Spotlight and the latest season of Orange is the New Black come to mind — will soften the blow. For now, the only remedy is to watch, watch, watch, until the official days that our favorites get kicked off. Now is the time to hold private screenings for yourself of all that is leaving Netflix. Quick! Before it's too late! And don't forget the popcorn and comfy sweatpants — it's going to be a very long ride and one must be prepared.
The following are the hits leaving us.
1. Mulan (1998)
Really Netflix? What the heck am I supposed to put on now to put a smile on my face? Do you think just any Disney movie will do? Well, they won't, because not all of them are tales of young women going into battle and pretending to be a man to save their father but actually saving China, OK?
2. Ghost (1990)
In Ghost, Patrick Swayze plays dead husband to Demi Moore — and the two get to have one more day together to figure out his murder by way of a psychic Whoopi Goldberg. It's time to get down with some red wine and Ghost, because the pottery-making scene simply must not go to waste. Don't forget to pour some out for that dancing homie, P. Swayze.
3. Bridget Jones' Diary (2001)
There is nothing that makes being a confused and silly 20-something seem less confusing and silly than Bridget Jones. The journal-writer is socially awkward, a chain smoker, and a bit of a mess, which makes her crazy exploits with Mark Darcy and Daniel Cleaver so fun to watch. Say goodbye to English hotties Colin Firth and Hugh Grant, guys.
4. Groundhog Day (1993)
Try watching this movie over and over and over again, the only way to do it, until it leaves us forever in June. This comedy is about a grouchy weatherman, Phil (Bill Murray), who has to relive the same day over and over again until he gets it right and hooks Rita (Andie MacDowell)
5. The Sisterhood Of The Traveling Pants (2005)
The plus side of this movie about four friends who magically all fit into the same pants —then live out a deeply meaningful summer sharing/sending them to each other — is that you can dust off your copies of the four part book series and get some of the summer love that way. What a wonderful excuse to get back into reading!
6. Who Framed Roger Rabbit (1988)
I totally forgot about how awesome and post-modern this movie was until it was almost too late for me to watch it on Netflix. Thankfully, we've all still got some time to get to see the relationship blossom between the accused-of-murder Roger Rabbit (Charles Fleischer) and his private detective friend Eddie Valiant (Bob Hoskins). And don't even get me started at the "not bad just drawn that way" Jessica Rabbit — she always was and still is #lifegoals.
Play Taps, cover your mirrors, do what you have to do together over the losses of these shows. The only we way we will prevail is together — or at least by marathon watching Orange Is The New Black as soon as it hits the Netflix scene June 17.
Images: Netflix