Wells Serenaded JoJo On 'The Bachelorette'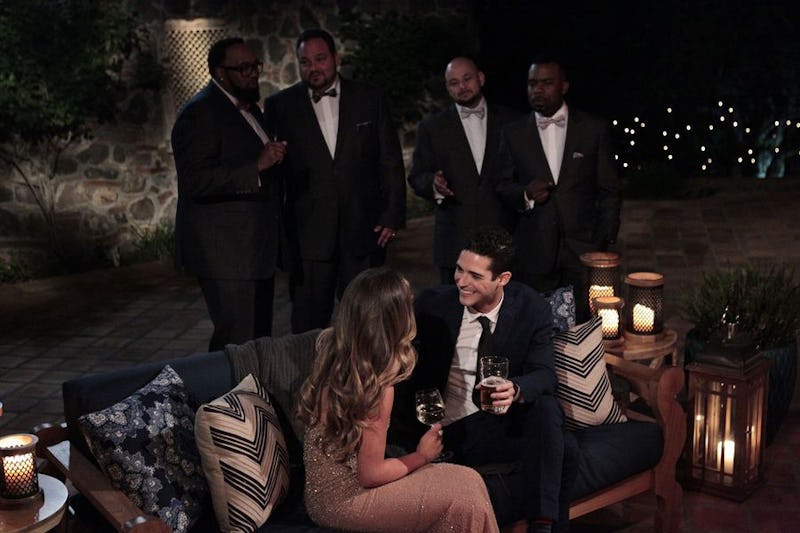 The first night of The Bachelorette or The Bachelor is hard, man (and not just for the people watching at home). As a contestant, you're thrown into this situation where you have to compete for attention with like, 30 different people. You're given enough alcohol to bring down an elephant, and you have to film all night long. There has to be a way to differentiate yourself from the other dudes and gals, and so far on JoJo's season of The Bachelorette , my favorite unexpected moment has been when Wells brought out a band to sing to JoJo.
But we're not talking any old group — Wells somehow brought All-4-One, the group responsible for 1990s chart-toppers like "I Swear," "She's Got Skillz," "So Much In Love," "Someday," and "Beautiful As U." I can't speak for JoJo, but if a man I was dating took the time to serenade me with some 1990s slow jams, I would probably be putty in his hands. As All-4-One sang "I Swear" to JoJo and Wells, she was clearly delighted. Who wouldn't be delighted? No one I want to know, that's for sure. It was a great and funny way to Wells to draw himself out of JoJo's pack of suited suitors. I liked that he differentiated himself in a way that was true to him — Wells is a radio DJ, so music feels like a natural fit for him (he probably had to call in a favor).
All joking and love songs aside, Wells and JoJo seem to have some serious chemistry. The first night is a mess of meeting guys and probably just trying to remember their names, but Wells and JoJo had a nice sit down and chat.
Will these two last on The Bachelorette? It's definitely too soon to tell, but I have a feeling we'll see Wells for at least a few weeks to come.
Images: Rick Rowell/ABC