The 'Girl Meets World' Opening Looks Familiar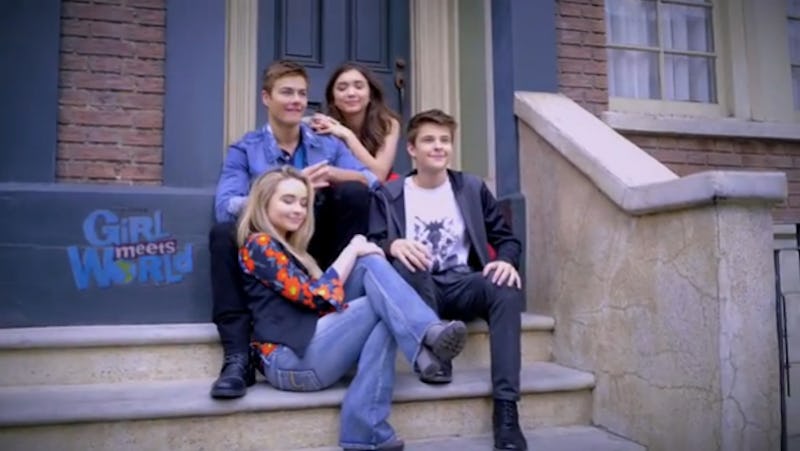 Maybe you haven't been keeping up to date with The Disney Channel's Girl Meets World because you're busy being, you know, a tax-paying woman in your 20s and not a spunky tween raised by an iPhone. More likely you spent your youth with Boy Meets World, spending each week watching Cory, Topanga and the gang mess around, wondering what lessons Mr. Feeny will teach them this time around. Well, according to Buzzfeed, everything old is new again: Girls Meets World's season three opening recreates the Boy Meets World credits... and reminds us how super weird the original credits were in the first place.
And that isn't a flat-out critique of Boy Meets World, all opening credits from your favorite '90s sitcoms are ridiculous. What's with the neon-colored assault of Saved By The Bell? How is Will Smith able to keep on that rotating throne during The Fresh Prince of Bel-Air rap? Why exactly are Monica, Phoebe, Chandler, Ross, Rachel and Joey partying in a fountain, in co-ordinating black and white outfits, in the middle of the night?
So even with it's polished, modern efforts, the Girl Meets World opening credits brings back a lot of side-eye worthy moments from the last two opening credits, like...
Sitting On The Steps With Your Besties In Very Natural Positions
Maya looks like she's trying to seduce the camera here, my God.
Friend Wrangling
For when you really want your BFF to park it on your lap.
Shimmying Back And Forth While Holding Hands
This doesn't look like a very awkward safety hazard.
More Shimmying, But With Ben Savage
Teach those kids how to do it.
Extreme Close-Ups
I feel like they were more of the Wayne's World variety in the original credits, but to be fair that movie came out before they were all born.
Loitering Around A Magazine Stand
Nobody's reading them, granted, because it is 2016, after all.
Doubling Up To Kiss Someone On Both Cheeks
A very low-key move if you ask me.
Riding A Tandem Bicycle Around Town
You know how teenagers love those tandem bicycles.
Pouring Buckets Of Water On Your Unsuspecting Love Ones
It's lightly sociopathic, Disney-brand sociopathic, if you will.
Having A Football, Looking Like You're Going To Use Said Football, And Then Just Abandoning The Football
So athleticism at it's finest.
Wasting Popcorn
Nothing screams First World Problems like throwing popcorn around like confetti.
And, Of Course, Walking Arm-In-Arm With Your Closest Friends Over A Chalk-Written Design That Boasts Your Sitcom's Name
As one does.
Suffice to say that even with some touch-ups, the recreation comes across a little bizarre. It will, however, make you super nostalgic for a time when you wouldn't blink at these sort of light-hearted antics. Revisit the original trailer below, and if you feel like checking up with the next gen, Girl Meets World returns June 3 at 8:30 pm ET.
Images: Disney (14)