'Alice's Soundtrack Is An Unexpected Musical Trip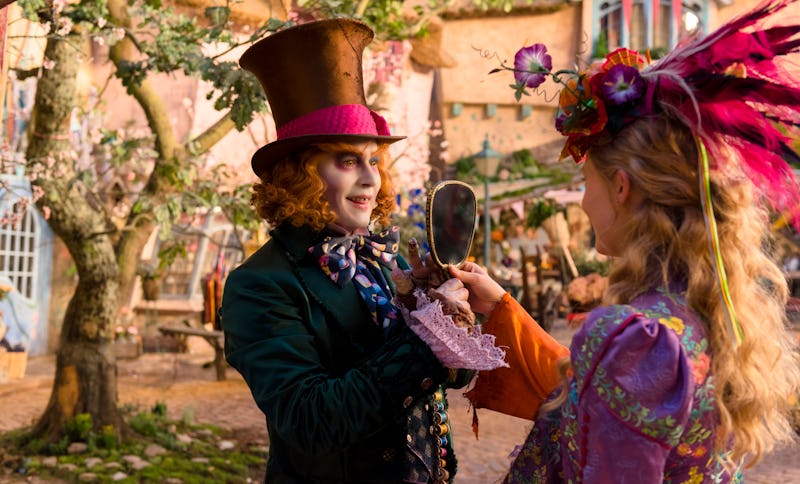 Mia Wasikowska returns to "Underland" in Alice Through the Looking Glass, the sequel to 2010's Alice in Wonderland. The movie, in theaters May 27, brings back Johnny Depp as the Mad Hatter, Helena Bonham Carter as the Red Queen, and Anne Hathaway as the White Queen. But there are also some new elements in the film: Alice's use of a sophisticated time travel device, Sacha Baron Cohen in a major role, and a magical score from Danny Elfman. Music is actually prevalent throughout much of the movie, which might have you wondering about the Alice Through the Looking Glass soundtrack. And you're not alone in that, as people have been curious about the soundtrack for some time now.
Fans first started asking about the music in Alice Through the Looking Glass when the movie's trailer was released a few months back. The trailer featured the song "White Rabbit," but it was a new version of the song sung by Pink instead of the original 1967 Jefferson Airplane recording. It was also announced that Pink would be writing an original song for the Alice soundtrack, which further piqued the interest of music lovers. That song, called "Just Like Fire," is the final track on the album. The rest of the soundtrack, however, might be a bit of a surprise.
As it turns out, although Pink's version of "White Rabbit" was the trailer song for Alice Through the Looking Glass, it isn't on the actual soundtrack for the film. Instead, the entire album — with the exception of "Just Like Fire" — is Elfman's score. The soundtrack weaves through the narrative of the film, with 27 different tracks for different parts of the plot. Just as Alice goes on a journey through time and space in the film, the soundtrack is a magical journey of its own.
It's no surprise that the Alice soundtrack is expertly crafted; Elfman has had plenty of previous experience putting together film scores. The composer has written the music for dozens of films, including Tim Burton's Alice in Wonderland a few years ago. He has also received countless recognitions throughout his career, including four Academy Award nominations. So, although you might be bummed that "White Rabbit" isn't on the soundtrack, you can rest assured that the rest of album is of the highest musical caliber.
And wait, there's even more good news — you don't have to wait long for the soundtrack, as it is currently available for pre-order on Amazon, and will be available everywhere May 27. So you can get go revisit Alice in theaters and then continue the journey with your earbuds afterwards.
Images: Walt Disney Studios