Teresa & Jacqueline Coming Face-To-Face Is Awk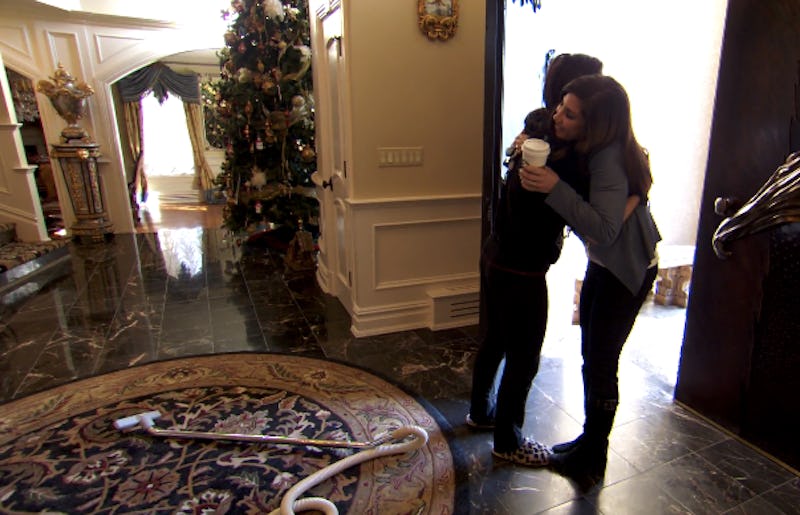 Tuesday has been an exciting day for Real Housewives of New Jersey fans. First, the trailer for RHONJ Season 7 was released. Finally, right? Then, a sneak peek of Teresa Giudice and Jacqueline Laurita's first meeting in years was posted by Bravo. The last time new episodes and footage of RHONJ aired was in 2014, so seeing the first interaction between Teresa and Jacqueline, who haven't had face-to-face contact for two years, is definitely a treat. That said, it also makes for one extremely awkward moment between the pair who used be thick as thieves.
As you can watch below, Teresa is busy vacuuming when there's a knock at the door. A very surprised Teresa opens the door and finds Jacqueline holding two large cups of coffee. Well, I guess if you're going to show up uninvited in the morning, you better come bearing caffeine.
It is great to see them hugging and smiling, rather than in one of the heated arguments they've got into in the past. However, as soon as the smiles and hugs are over, it gets super uncomfortable. Teresa keeps repeating how she had no idea Jacqueline was stopping by to which Jacqueline replies, "Always full of surprises." They continue to stand awkwardly in the foyer, but Teresa does end up inviting Jacqueline in. But, before they can sit down and talk, they're interrupted by the phone. End scene.
Well, fans will just have to wait until the RHONJ Season 7 premiere on July 10 to see what else happens. My guess? More awkwardness.
The awkwardness aside, they are cordial and genuinely seem happy to see one another. I mean, I can't imagine talking with someone after so long, especially if it's your friend who was just released from prison after serving 11 months for tax fraud. That would definitely make for an uncomfortable moment.
Though, as Jacqueline previously told Bravo's The Daily Dish, even though there will be drama between the two throughout the upcoming season, they are friends and closer than they once were. "It's going really well," Jacqueline said. "We're working on repairing, rebuilding our friendship, and it seems to be going really well." As for their first interaction after so many years once Teresa was released from prison? Jacqueline said, "Surprisingly, it felt like old times. It felt like seeing somebody alive after a war. It felt more comfortable than I thought it was gonna be."
Maybe those comfortable moments come later on, because I don't know about you, but I surely felt uncomfortable watching their meeting. Whatever the case, I've never been more ready for a new season of RHONJ.
Image: Bravo