Nyle & Peta Got Emotional On 'DWTS'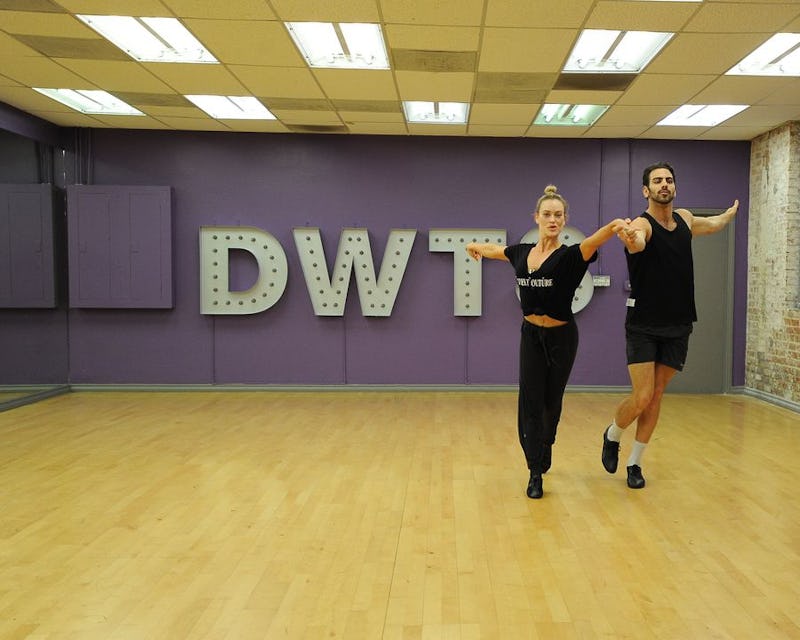 Dancing with someone over the course of Dancing With The Stars is an emotional ride. The dancers and professionals spend so much time together over the course of eight or ten weeks — 12 hours a day, six or seven days a week — that when it comes to say goodbye, it can be kind of tough. Peta Murgatroyd and Nyle DiMarco's last rehearsal before the finale was especially poignant, though, because of the special relationship that these two have formed this season.
In the pre-dance interview, Nyle and Peta were shown walking into the rehearsal space, and both of them got really choked up when they saw all of the photos of their dances together on the wall. If you haven't been watching, Nyle is deaf — he cannot hear anything. At all. So Peta had to relearn how to teach someone how to dance. She and Nyle developed their own style of teaching and learning choreography, respectively, bringing them closer than I think any other couple on the show has been. They had to be on the same vibration at all times because there is no other way for them to communicate. Sure, Nyle has an interpreter, but that doesn't help on the dance floor. Both Nyle and Peta got really emotional when it was time to "say goodbye" to their space and their rehearsals together.
Some parts of Dancing With The Stars can be a little bit hokey, but Peta and Nyle's relationship shows the wonderful parts of it, too. These people are two very different people from very different backgrounds and life experiences, but they were able to come together as one just by dancing together. It's beautiful how music and dance act as a great unifier. Even if they don't take home the Mirrorball Trophy tonight, both Peta and Nyle have showed that overcoming an obstacle sometimes means just looking at it a different way.
Images: Aaron Poole/ABC