Jordan Blames Himself For His Pre-'Bach' Break Up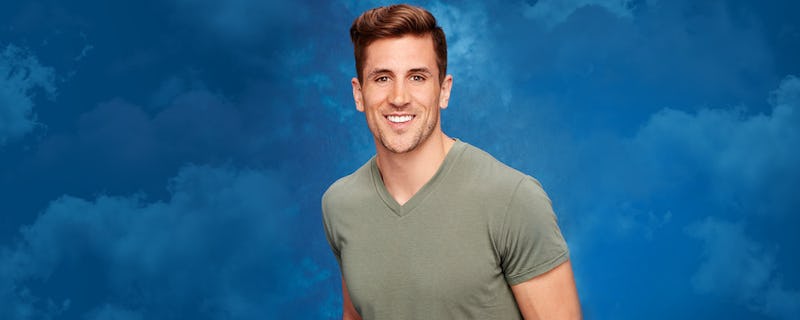 From the looks of things on the premiere of The Bachelorette, JoJo and Jordan are way into each other. He got her first real kiss of the show, the first impression rose, and their chemistry is off the charts. But, will it last? I think that past relationships are a great indicator of your future relationships — on Ben's season of The Bachelor, JoJo talked about Chad, her ex, and their pairing, so we have a little glimpse into her past. And, during his introduction on The Bachelorette, Jordan talked about his ex-girlfriend and how he think he ruined their relationship by being too focused on football. So, why did Jordan Rodgers and his ex-girlfriend break up?
Jordan's pensive montage on The Bachelorette revealed that he blames himself for how his relationship turned out. "[Football] did pay a toll on what was an important relationship to me at the time," he said. "I was in love but I was so focused on football ... when that relationship ended it hurt really bad because it was my fault the one woman I loved wasn't in love with me anymore."
Jordan didn't name who this ex was, but his ex-girlfriend Brittany Farrar put herself in the middle of things when she Instagrammed a photo during the premiere of The Bachelorette with the caption, "Riding the bench doesn't get in the way of a relationship, but cheating does." ABC tells Bustle that they are not commenting on those allegations. Jordan could not be reached directly for comment.
I'm not even going to pretend like I know what happened between Jordan and Brittany, but there are obviously conflicting accounts as to why their relationship ended. This happens to a lot of football players, it seems — money and fame and work can get in the way of their relationships. According to the New York Times, the New York Jets even reportedly have team marriage counseling to guide their players through struggles.
But, turning our attention to the present: Will Jordan and JoJo last? That remains to be seen, but thankfully, he's retired from football now, so that can't get in the way of his chance at true love anymore.
For everything Bachelor Nation, check out Bustle's Bachelorette podcast.
Images: Craig Sjodin/ABC