The 'Careful What You Wish For' Song Sets The Tone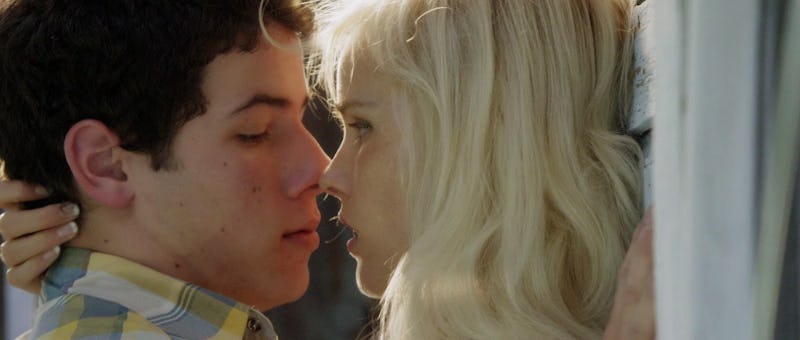 All it takes to let the world now that you're ready to be an adult now is to start starring in adult roles that require at minimum two or three "exit a body of water" scenes. At least, in Nick Jonas' world, that's what seems to be working. The trailer for Careful What You Wish For , a sexy adult thriller with beautiful, scantily-clad humans premiered today and guess who's the main guy? Your boy — sorry, man — Nick Jonas, that's who. Careful What You Wish For stars Nick Jonas as sexy shirtless ab person, Isabel Lucas as a sexy love interest, and Dermot Mulroney as sexy, but scary, but also sexy older guy. And all of this is capped by one — you guessed it — sexy trailer and sexy trailer sexy song. (Sexy.) But what exactly is the song in the trailer for Careful What You Wish For? Well, hate to be redundant here (sexy), but careful what you wish for. You might need to listen to the tune exclusively through the steamy trailer if you want to hear it again because it appears that the jam might not be out yet.
Viewers of the trailer who share the same inquiries as you — aka "What song is this?" as well as the very real question, "Isn't this just Camp Rock 3?" — haven't come to any inclusions. Thanks for nothing, Internet! Still, just like Jonas's picturesque-but-possibly-deadly summer vacay where he puts himself in a real pickle, trying to figure out this song is proving to be super difficult. Major bummer. Thankfully, I don't have Mulroney breathing down my back during the process. So for now, as we await answers either in the form of another trailer or soundtrack to Careful What You Wish For, relish in this trailer below.
Careful What You Wish For will be available On Demand, iTunes, and in select theaters June 11. And the song? At this point, it remains to be just as mysterious as my sudden desire to see this film.
Images: StarzDigital/StarzDigital