17 Best Sunglasses For The Beach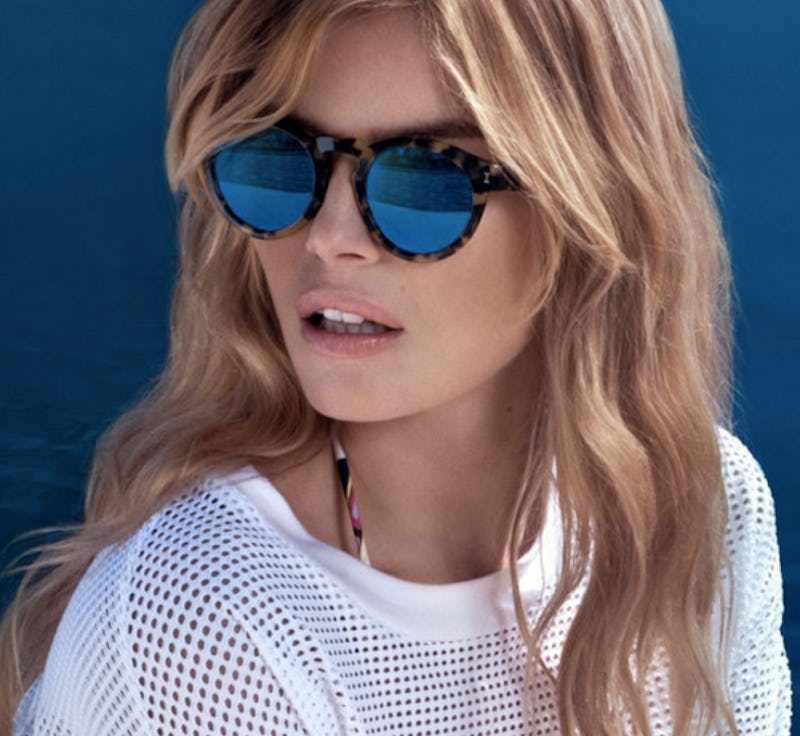 You know the saying: Sun's out....sunglasses out (at least for me). Now that temps are staying above the 70s, only one thing is on our mind — water. And of course, crop tops, denim shorts, and sunglasses for the beach. So after a long, long winter of snowstorms, hail, and broken umbrellas (really, NYC, screw you), it's time to bask in the sun we've been waiting an entire year for.
Nothing says summer quite like a pair of sunglasses. Of course, bathing suits, hats, cover-ups, and towels are all fun, but a cool pair of sunnies are the ultimate accessory. And, essentially, you can throw as much shade as you want and hide behind them. That's why I love them, at least. If you remember one thing to bring to the pool or beach, it's sunglasses. It's a strong statement, but it's true.
While we all wear sunnies all year long, something about the summer and glasses feels so satisfying. Like you've earned the sunshine. I can look back in my life and identify the summer based on the sunglasses I was wearing that year. Seriously. In 2008, it was a pair of Marc Jacobs oversized glasses. In 2010, aviators with a gold frame. The year 2012 was topped off with a super cool cat eye. Beyond an accessory, they're a benchmark. A reminder of all the fun memories of each year.
Anyone feel this love for them like I do? This year, these are the sunnies that'll change your summer and make you remember it for the rest of your life. Just add a killer bathing suit and hat and you are set, my friend.
Ray Ban Mirrored Flash Aviator Sunglasses, $165, Nieman Marcus
Gold and pink are the ultimate combo.
ASOS Oversized Metal Round Sunglasses With Blue Flash Lens, $15, Asos
So. Dope.
Quay Kittie Cat-Eye Sunglasses, $50, Urban Outfitters
Love the reflection, too.
Le Specs Thunderdome D-Frame Tortoiseshell Acetate Sunglasses, $80, Net-A-Porter
These are SO COOL.
Want more fashion and beauty tips? Check out the video below and subscribe to Bustle on YouTube!
5. The Floral Pattern
Smith Optics Sidney 52mm Sunglasses, $89, Nordstrom
So subtle, yet so pretty.
Valley Marmont Limited 51mm Sunglasses, $200, Nordstrom
Major old school vibes.
Bueller II Shades, $20, Nasty Gal
No better combo.
Self Portrait + Le Specs Round-Frame Acetate And Gold-Tone Sunglasses, $75, Net-A-Porter
Half on, half off.
Illesteva Leonard Mirrored Lense Sunglasses: Tortoise, $178, Intermix
Nothing beats classic tortoise.
Quay Kitty Shades, $50, Nasty Gal
Vote's in: These are the sleekest shades of all.
Sun Buddies Clear Type 04 Sunglasses, $131, Ssense
With this olive green glass? Yes, please.
Illesteva Wynwood Round Stainless Steel Sunglasses, $177, Nieman Marcus
BRB, ordering these right now.
13. Speckles
Steve Madden Rylie, $29, Steve Madden
101 Dalmatians vibes right here.
Sunny Rebel Hudson Bicolor Round Frame, $29, Gilt
So mod, I can hardly take it.
Illesteva Mykonos Round Sunglasses, $177, Barneys
I really don't think these could be any cooler.
16. Pink & Clear
Retrosuperfuture Super Gals Pool, $209, Blue And Cream
This summer is all about pink hues.
Wildfox Women's Grand Dame Cat Eye Sunglasses, $40, Nordstrom
This blue reminds me of the sea.
Memorial Day is just around the corner, which means summer is practically here. There are officially 15 weekends in summer — make 'em count.
Images: Courtesy of Brands