What Makes Memorial & Veterans Day Different?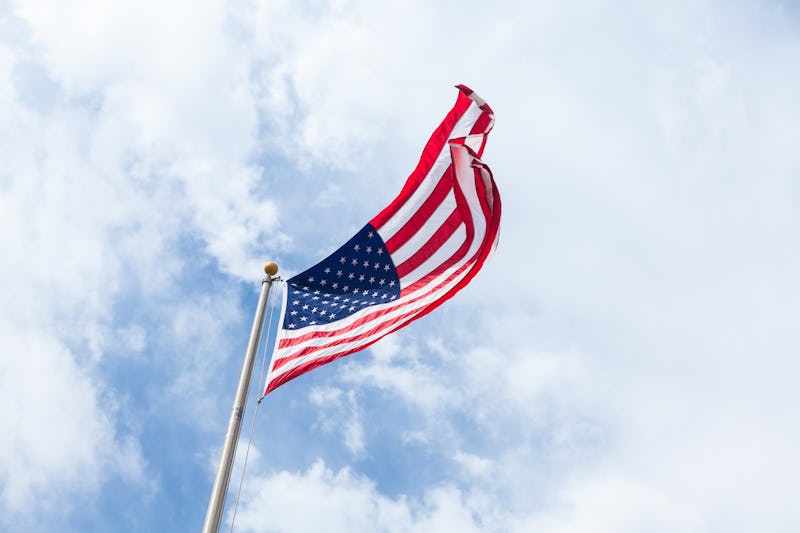 Every Memorial Day seems to end the same way: You're sitting around the grill, surrounded by hot dog and potato chip crumbs, when the conversation turns to the difference between Memorial and Veterans Day — specifically, how nobody knows what it is despite enjoying the three day weekend without question. After a few shrugs, the discussion usually turns to other subjects... Until this year. Prepare to descend like a god of patriotic trivia among your friends, because we're about to get into the surprisingly dissimilar histories of the two holidays. (Unless you don't have the day off, of course; in that case, you can hold off on the patriotism until next year. Also, my deepest sympathies.)
Because they both deal with the American military, Memorial and Veterans Day — officially spelled without the apostrophe, by the way — are often mixed up. However, the holidays actually focus on different aspects of military service. Memorial Day honors those who died while serving in the military, especially personnel who died in or as the result of battle, while Veterans Day honors everyone who's served in the military. In fact, the U.S. Department of Veterans Affairs notes that Veterans Day, celebrated on November 11 every year, is mostly intended to appreciate the living. In short, Memorial Day is for veterans who passed as the result of their service, and Veterans Day is for veterans who are alive today.
Veterans Day, known as Armistice Day until it was renamed in 1954, was created in response to World War I and recognized as a national holiday in 1938. However, Memorial Day's roots go all the way back to the American Civil War, when communities began commemorating the dead by decorating their graves with flowers and organizing parades. There's considerable debate about where the first Memorial Day was celebrated, but former Union Army Major General John A. Logan declared the first official observation of the holiday in 1868. According to the Department of Veterans Affairs, he chose May 30 as the date of celebration because flowers were most likely to be in bloom at the time.
Originally known as Decoration Day, the tradition continued throughout the years until it was declared a federal holiday in 1971. Congress also used the opportunity to change the date from May 30 to the last Monday in May, which is why it falls on a different day every year.
That brings us to today, when Memorial Day is seen as both a time to remember those who have passed and a cause for celebration — many view it as the unofficial start to summer. So keep in mind the reason for the day off, but don't forget to enjoy it, too.
Images: Brandon Day/Unsplash