Paint Your Walls To Make Your Space Look BIG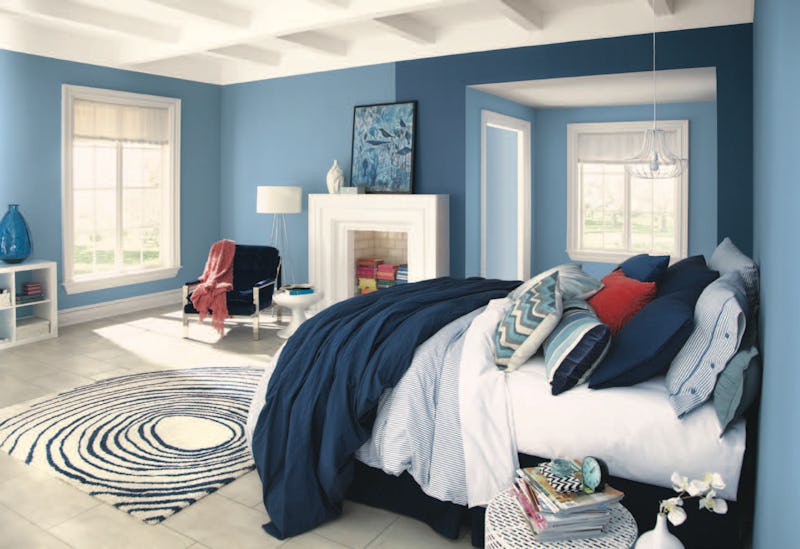 The perks of living in a major city are endless, with access to cool music venues, chic shops, and awesome people to meet. The biggest downsides? Huge rents and smaller-than-ideal spaces. Luckily, there are tons of creative hacks to make your small space look bigger using paint.
Strategic wall painting is one of the easiest ways to open up your home with minimal effort and investment, making it a great place to start. In collaboration with Sherwin-Williams®, I've come up with a list of tricks you can use to make a room look more spacious, all with cleverly selected shades and patterns. Whether you're a total minimalist or open to something super colorful and eye-catching, there's an option that will leave you feeling like your small space is way larger than you ever imagined.
There are a range of ideas, from extremely easy for the not very handy to pro-DIY-level designs for more experienced home improvers. You can totally do a paint job solo if you choose something simple, or bribe some of your artistically inclined friends with vino and make a night of creating a more complex design. Even if you have all the square footage you could ever need (consider us jealous!), these ideas will still help you make your place feel roomier. And really, who couldn't use the illusion of extra space?
1. Keep it in the family.
Painting walls, trim, and details in different shades from the same color family, like grey or light blue, will make your whole space look larger. You can go as neutral or as statement as you want — the effect will be the same. Check out the above combo of SW 7019 Gauntlet Gray, SW 7020 Black Fox, and SW 7018 Dovetail as inspiration — and aspiration.
2. Paint it black.
It may sound counter-intuitive, but a smaller space is actually opened up by painting the walls black (or another super dark color).
3. Go for all white everything.
If you're not ready to commit to a dark hue, a pure, clean white is also an option. Super white paints reflect natural light and make a little room feel airy. Make sure you choose a shade with no undertones, and you'll be able to add accent colors to liven things up elsewhere in your decor.
4. Create an accent wall.
Yeah, yeah, we've all heard about the accent wall, but it's true that painting one wall in a stronger color than the others creates an optical illusion that there's actually more space in the room. This strategy can also create a natural focal point, which makes arranging furniture and other decor items easier. Add a wall of bright color with SW 6606 Coral Reef.
5. Raise the roof.
Paint your ceiling a lighter color than the rest of your space and suddenly it will seem like you have extra-high ceilings.
6. Stripe it out.
Vertical stripes and color blocking are the oldest tricks in the book when it comes to streamlining silhouettes, but for your walls, try something different with horizontal stripes. Pick one or two walls to stripe and you'll see them instantly elongated. Plus, using contrasting colors will create the illusion of depth.
7. Make it matchy-matchy.
This idea requires a little more investment, but the payoff is big. By coordinating some of your furniture or decor elements to your paint color, like this versatile SW 0055 Light French Gray, your space will feel more open and cohesive. Furniture that matches the walls is a great option, as is matching your rug and other smaller accents.
This post is sponsored by Sherwin-Williams®.
Images: Sherwin-Williams® (8)