The New 'Star Trek Beyond' Posters Are Here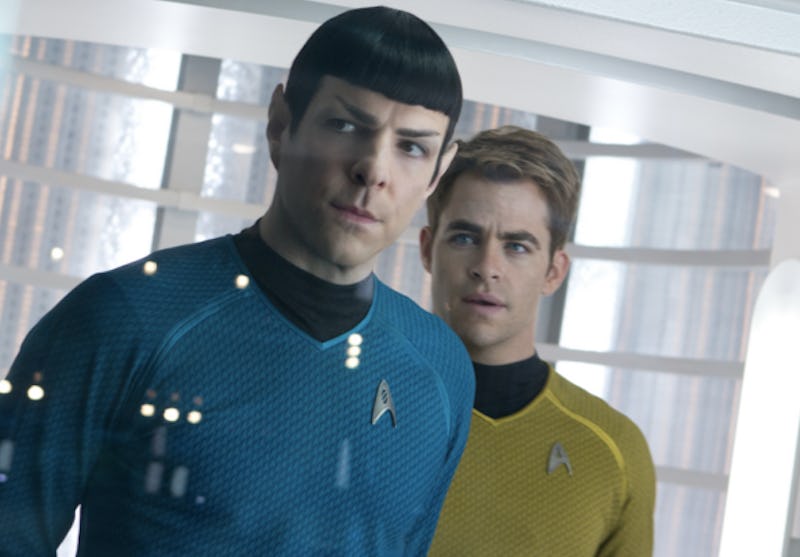 It seems like it's been forever since the second movie in the franchise, Star Trek Into Darkness, came out in 2013. Now, excitement for Star Trek Beyond is only growing, with the movie due for release on July 22, and I cannot wait. As the release date approaches, we're finally getting a glimpse of the characters in individual cast posters, and so far they have not disappointed. The latest posters for the third Star Trek movie feature Zoe Saldana, Chris Pine, John Cho, and Simon Pegg, and give us a taste of what to expect from the next installment in the series.
The most recent trailer for Star Trek Beyond deviated from the usually lighthearted tone the reboot has set, and showed that there is a lot of drama ahead. The trailer starts out with Chris Pine's Captain Kirk discussing why he joined Starfleet, following in his father's footsteps, and then we're given a hint of the action that's ahead. With incredible graphics and some awesome looking stunts, the third Star Trek movie looks sure to satisfy fans of the franchise. The latest posters are every bit as exciting, and prove what a talented group of actors the cast of the Star Trek reboot are.
In a serious set of poses, Captain Kirk and crew look ready for battle. Their expressions are sombre, and it certainly looks like there are some dark days ahead for the Starship Enterprise. It's particularly fun to see actors Simon Pegg and John Cho, who most often take on comedic roles, looking stern and ready to fight. In its casting, the Star Trek reboot throws back to previous incarnations of the series, with a very real merging of light and witty dialogue, and dark foreboding action, as well as an understanding of how important comedy timing is.
The plot doesn't give much away about what Star Trek Beyond entails. According to IMDb, "The USS Enterprise crew explores the furthest reaches of uncharted space, where they encounter a mysterious new enemy who puts them and everything the Federation stands for to the test." As the new character posters have a vintage style about them, there's definitely an appreciation of classic Star Trek, but the promise of a "mysterious new enemy" might mean a brand new challenge for the crew.
While we all wait for the movie to be released, it's worth spending some time with the new Star Trek Beyond posters and figuring out what secrets the new film might hold.
Images: Paramount Pictures