'Civil War' Could Be Coming To Netflix Soon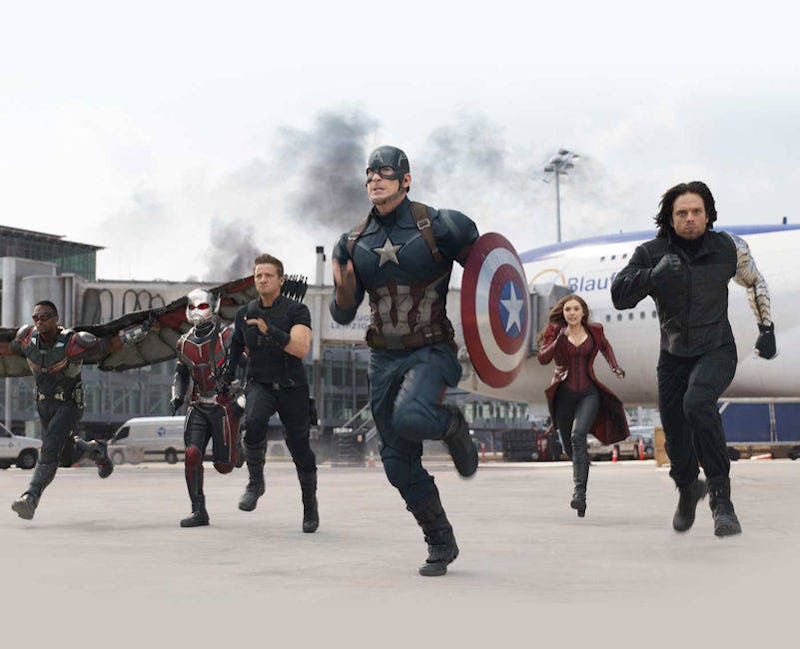 Almost one month after its release, Captain America: Civil War is still kicking butt at the box office. Marvel's newest hit is currently sitting pretty with the number four spot at the domestic box office. According to Box Office Mojo, the film recently soared past the $1 billion mark in worldwide gross, and continues to do well in theaters both in the U.S. and abroad. This might sound trivial, but, as we all know, box office success can be directly linked to when a movie might be released on DVD, and therefore be streaming on Netflix or Amazon Prime. Given the film's huge success, fans are wondering, when will Civil War be on Netflix?
One look at Netflix's movie streaming selection is enough to make any Marvel Cinematic Universe fan cry — there's no Iron Man, no Avengers, no Ant-Man and no Thor. Netflix once had more than a few MCU movies streaming on its website, but, unfortunately, now there are none. Lucky for Civil War fans, Cap and Iron Man are still battling it out on the big screen, so audiences don't have to depend on streaming services to see the film. However, even Civil War won't be in theaters forever, which means Netflix's new deal with Disney — the studio that releases all the MCU movies — has come at just the right time.
Netflix recently announced that customers will finally be able to stream Disney films — including the studio's other properties of Pixar, Marvel, and Lucasfilms — starting in September. It's unclear which movies in the MCU will be available for streaming, though fans are hopeful that they will get to immerse themselves completely in the MCU come the fall. That said, normal wait periods will still be in effect, meaning that, just like HBO and Showtime, movies won't hit Netflix streaming until after they are released on DVD, Blu-ray, and other digital platforms. On average, movies take around six months to make it from the movie theater to streaming platforms. For example, Best Picture winner Spotlight is coming to Netflix in June, seven months after its theatrical release.
The next MCU movie, Doctor Strange , will be released on Nov. 4. It seems unlikely that Civil War will hit Netflix before then, but it is possible. (It probably depends on how closely Doctor Strange will be tied to the Avengers featured in Civil War.) A safe bet for when Civil War will hit Netflix would be sometime around Christmas. Marvel and Disney won't miss the opportunity to take advantage of the holiday season with a Civil War DVD release, so expect Civil War on Netflix soon after Christmas.
Of course, Christmas is still a long ways away. In the meantime, fans can catch up on Marvel series streaming on Netflix, including Jessica Jones, Daredevil, and Agents of S.H.I.E.L.D., as well as animated films.
Images: Walt Disney Studios; Giphy (2)