The Velour Lash Naked Collection Isn't Cheap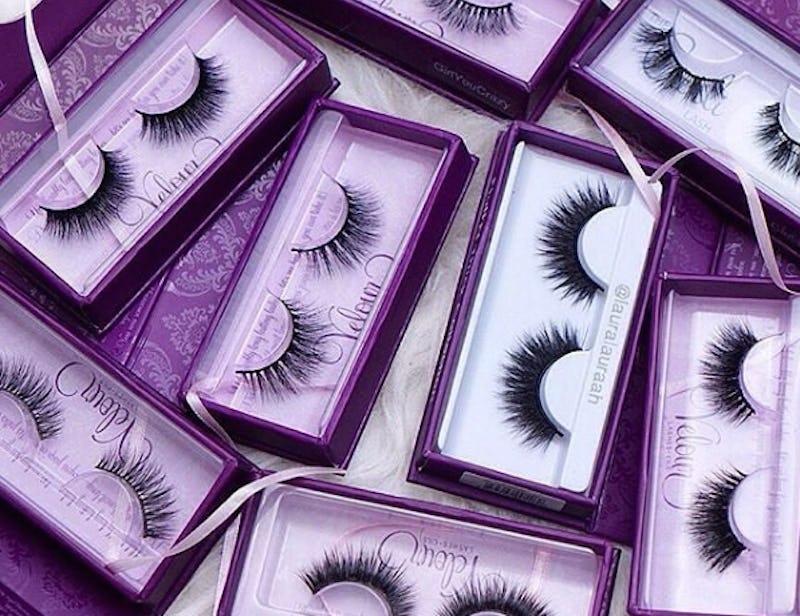 No makeup addicts' kit would be complete without a great pair — or eight — of false lashes, and for many, their brand of choice is Velour. Now, the brand is launching their band-less lashes just in time for summer, but how much is the Velour Lash Naked Collection? The luxury brand is officially selling the coveted look, but you should prepare yourself for a bit of a splurge.
The infamous beauty trend Instagram account, TrendMood, released an image of the Velour Lash Naked Collection only a day ago, much to beauty fans' excitement. The great news is that no one had to wait long because the product went on sale a day later on Wednesday. According to the Velour Lash website, which is now selling the products, the cost of the Naked Collection is $35 per set of lashes, so if you'd like to own all five pairs, you'll be dropping a cool $175 to snag the entire line.
While the $35 price tag for the Velour Lash Naked Collection may seem like a bit much, according to many who have used the lashes, they aren't simply a use and throw away lash. Instead, if well cared for, the lashes can be used several times over, making the cost a bit more reasonable.
Velour's creation of an invisible band isn't revolutionary. There are existing products on the market, but the brand's sheer prestige and luxury quality make them the first of their kind. According to the Velour Lash website, celebrities like Beyonce, Caitlyn Jenner, and Anne Hathaway all wear the brand. With celebrities known for their killer looks rocking Velour, its clear that they are committed to the highest quality product.
Outside of celebrities, though, beauty bloggers are huge fans of the brand, including incredibly successful blogger Jaclyn Hill. Hill has been using the brand for years, and it's still remained one of her favorites.
So while the answer to the question of how much the Velour Lash Naked Collection may not have been your favorite thing to hear, the sheer quality and durability of the product makes it worth the price. I mean, hello, if it's good enough for Beyonce, it's good enough for us all.
Images: VelourLashesOfficial/Instagram (1)