20 YA Novels To Grab You From The First Line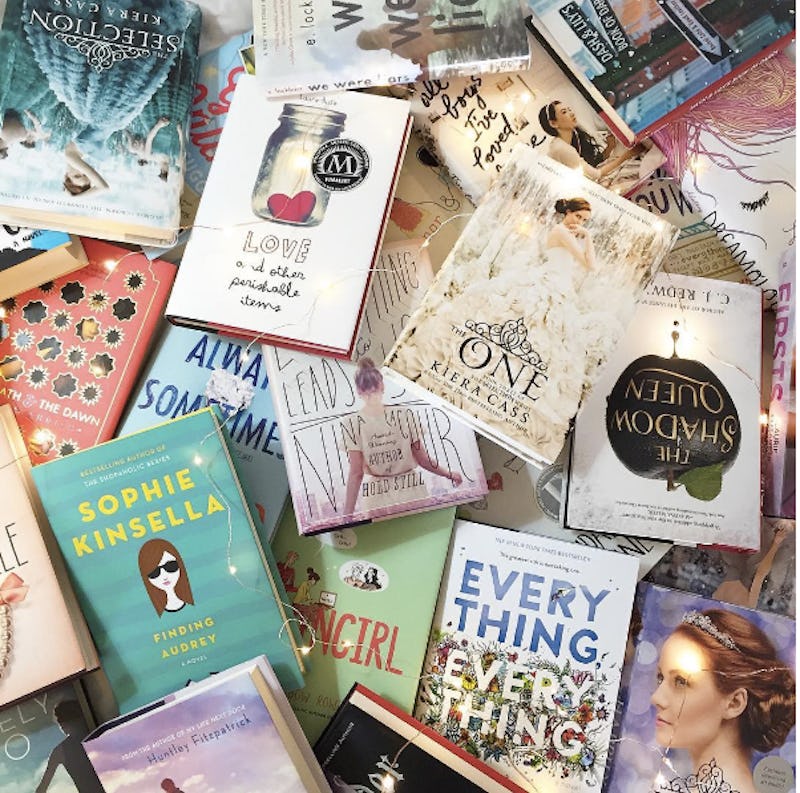 Any book-lover will tell you that one of the best feelings around is opening a book, reading the first line, and knowing immediately that you're going to get lost in it. Cancel your plans, stay-home-reading kind of books are pretty hard to come by when you think about it. I mean, when you opened Harry Potter and the Sorcerer's Stone for the first time ever, you pretty much knew the people (well, one person) of Number 4 Privet Drive were about to become really (like, REALLY) important to you. Same goes for The Hunger Games: sometimes you just know the book in your hand is the book for you, something to draw yourself into.
If you haven't felt this way in a while, never fear. There are countless YA novels that are just waiting to help you out of your book rut. Young adult authors just know how to grab our attention (and our hearts) early on in a book, so that we're hooked for good by page five. From contemporary fiction, to romance, sci-fi and fantasy, there is something for everyone, just waiting to pull you in. Here are 20 YA novels that are pretty much guaranteed to hook you in from the very first line.
First Line: "I am Mary Iris Malone, and I am not okay."
Mosquitoland won't fail to pull you in from the first page, making you wonder who Mary Iris Malone was, why she isn't OK, and what was going to happen to her from there. It will leave you laughing, crying, and feeling every emotion in between, yes, but it all starts with that first line.
First Line: "I was seventeen years old when I saw my first dead body."
Does it get more ominous than that? A dead body on the first page leaves so many unanswered question, and you can't help but read on. After that, you're hooked.
First Line: "It turns out the Leteo procedure isn't bullshit."
You don't have to know what the Leteo procedure is to want to know more about it after a sentence like that.
First Line: "I don't know a lot of things."
Amber Smith's novel is an important one, and it starts by grabbing the reader from the very first page, and bringing them into a world where everything you thought you knew is called into question.
First Line: "The first time I killed a man it was an accident."
I mean, is there a more ominous opening to a book? Who did they kill, and why, and who was he. Who's talking, for that matter? So many questions, and we need them answered immediately in Kali Wallace's page-turner.
First Line: "My mother wore the sun like a hat."
The First Time She Drowned is the story of a girl who is checked into a mental institution for two years, without her consent, and against her will. By her mother. A mother who wears the sun like a hat doesn't seem like the type to do such a thing, but readers will soon know better.
First Line: "There were things Dillard Wayne Early Jr. dreaded more than the start of school at Forrestville High."
What unfolds after this seemingly simple first sentence is one of the most beautiful YA novels of the year, and it all starts with that opening. We don't know yet what Dill dreads more than school, but we can't wait to find out. Though when we do — so. many. tears.
First Line: "Joost had two problems: the moon and his mustache."
You know, just the usual. Leigh Bardugo's Six of Crows was highly anticipated after her Shadow and Bone series, and with a first sentence that refers to the moon and mustaches as a problem, how could you not read on?
First Line: "My big brother reaches home in the dark hours before dawn, when even ghosts take their rest."
Named one of the best YA novels of 2015, it's really no surprise that An Ember in the Ashes has such a captivating first sentence. There is so much more to come from just a sentence (like more books!) and it all started here.
First Line: "I have no idea how to write this stupid book."
It's not often a book opens with an admission like this one, and you can't help but be like, "same," and keep reading it, right?
First Line: "On the day Liz Emerson tries to die, they had reviewed Newton's Laws of Motion in physics class."
Wait, tries to die? *Reads on* Amy Zhang's Falling Into Place is one of those books you won't be able to put down after the first line, and maybe not even until you've read the last.
First Line: "I don't make to-do lists, but if I did, today's would have gone something like this: 1. get drunk, 2. get laid, 3. go surfing (not necessarily in that order).
It's an... ambitious to-do list, but like, I want to know if they accomplish it.
First Line: "Chapter the first, in which the Messenger of the Immortals arrives in a surprising shape, looking for a permanent Vessel; and after being chased by her through the woods, indie kid Finn meets his final fate."
The Rest Of Us Just Live Here is the story of all the unchosen ones. The regular kids surrounded by the Harry Potters and Katniss Everdeens and all the weirdness that surrounds them. The kids in this book are just trying to make it through high school without their high school blowing up for reasons unknown to them. But as noted in this first line, it can be challenging at best.
Illuminae by Amie Kaufman and Jay Kristoff
First Line: "This is the file that almost killed me, Director."
Illuminae was another highly anticipated YA novel, and one that didn't disappoint upon its release. The first line was just the beginning of the incredible adventure lying inside.
First Line: "The problem with my life was that it was someone else's idea."
A novel about first loves and self discovery starts off on a pretty serious, even bleak note, but will fill you with so much happiness and hope that you won't be able to stop reading once you start. This is a read-in-one-sitting YA love story that you won't be able to put down.
First Line: "Blue Sargent had forgotten how many times she'd been told that she would kill her true love."
It sounds like the beginning of a fairy tale gone terribly wrong, doesn't it? Not only will you not be able to stop reading after the first line, but likely not until you've finished all four books in The Raven Cycle.
First Line: "The people of Bone Gap called Finn a lot of things, but none of them was his name."
Bone Gap is a compelling work of magical realism that will draw you in with its characters, mystery, and amazing writing.
First Line: "Dispatcher: Hallo, hoe gaat het ermee?"
First of all, what? It quickly becomes apparent that this is a 911 call, and you will have to know how and why it all started.
Cinder by Marissa Meyer
First Line: "The screw through Cinder's ankle had rusted, the engraved cross marks worn to a mangled circle."
The first line of the beloved Lunar Chronicles series starts off with a rusted ankle, and only gets weirder (AKA better) from there. Cinder takes place in New Beijing, a world unlike anything else you've read before.
First Line: "The list arrived after Sloane had been gone two weeks."
Morgan Matson is a beloved YA author, and books like Since You've Been Gone only proves why that is. Since You've Been Gone is the perfect blend of friendship and romance, and an amazing book to lose yourself in on a summer day.
Image: Booksenchanted/Instagram