BeautyBlender Has Two New Collabs In The Works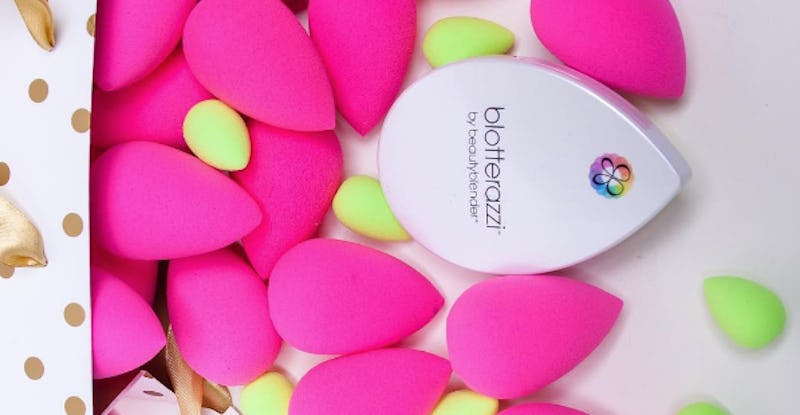 You might have heard that Beauty Blender appears to be collaborating with Too Faced on something special, but it looks like that's not the only awesome collaboration that it has coming. According to PopSugar, the company behind the iconic makeup applicator is also teaming up with Benefit Cosmetics on a secret project. There haven't been a whole lot of details released yet, but that doesn't mean people aren't pumped. You'll have to wait a little bit longer to get your hands on the collabs, but something tells me that it'll definitely be worth it.
When I found out about BautyBlender teaming up with two of the biggest names in makeup out there, tons of questions popped into my head. What will it be? Are there going to be new products? When can I get my hands on them? Well, it looks like only one of those questions can be answered, but it's perhaps the most important one.
"Beautyblender is partnering with two amazing brands later this Fall for exclusive, co-branded offerings just in time for Holiday," Beautyblender's PR representatives told PopSugar. "Yes, one is with Too Faced and the other is with Benefit. Our lips are sealed, for now, about any further details."
Bustle reached out to BeautyBlender to verify this information as well.
While there's still at least five months before the start of holiday makeup launches, this is still pretty great news. Word of the Too Faced collaboration was first leaked by Jerrod Blandino, founder of the brand and master of Instagram sneak peeks. He posted a photo with Rea Anna Silva, CEO of BeautyBlender, which is what started all the excitement.
There's hasn't been an official announcement made on social media about the Benefit Cosmetics collaboration yet though. The brand has its hands full with a major brow line release right now anyway. I would keep your eyes peeled for more details, because all three of the brands are constantly updating their Instagrams.
No matter what the collaborations end up being, I'm willing to bet that they'll both be must-haves. Summer's hasn't even started yet and I'm already getting pumped for the holidays.
Images: BeautyBlender/Instagram (1)