10 Hysterical Wedding Readings From Literature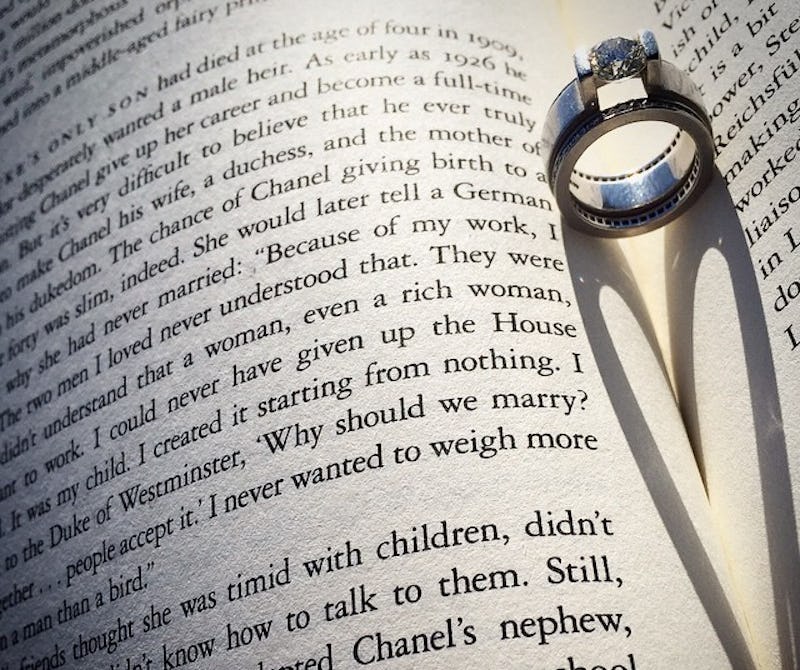 As the weather gets nicer, and the scourge of outdoor weddings picks up, everyone is looking for that perfect funny wedding reading. You need something romantic that hasn't been done to death. And, if you're a book nerd, you'll want something literary. Maybe even something humorous, to lighten the mood after Uncle Mike starts talking about his divorce. So here are some wedding readings from literature that will have your guests laughing out loud.
After all, everyone wants their wedding guests to have fun. I mean, yes, the point of the wedding is for the wedding couple to look beautiful and rub their perfect love in everyone's faces. But if it's also a super fun, literary party that everyone remembers for years to come, that's an added bonus. You can go the full book-themed wedding route, and Pinterest your way to cute, literary decor and bookish favors. Or, if theme parties aren't so much your style, you can just add a touch of fun with a funny reading from literature.
Every great comedy ends in a wedding, right? (That might be using the Shakespearean definition of "comedy" but... you get it.) Love isn't all about drama. Bring the laughs and the literary cred with one of these quotes:
1. Have you ever been in love? Horrible isn't it? It makes you so vulnerable. It opens your chest and it opens up your heart and it means that someone can get inside you and mess you up.
― Neil Gaiman, The Sandman, Vol. 9: The Kindly Ones
2. I would always rather be happy than dignified.
― Charlotte Brontë, Jane Eyre
3. Do I love you? My god, if your love were a grain of sand, mine would be a universe of beaches.
—William Goldman, The Princess Bride
4. A lady's imagination is very rapid; it jumps from admiration to love, from love to matrimony in a moment.
― Jane Austen, Pride and Prejudice
5. His examination revealed that he had no fever, no pain anywhere, and that his only concrete feeling was an urgent desire to die. All that was needed was shrewd questioning… to conclude once again that the symptoms of love were the same as those of cholera.
—Gabriel García Márquez, Love in the Time of Cholera
6. Love can change a person the way a parent can change a baby— awkwardly, and often with a great deal of mess.
― Lemony Snicket, Horseradish
7. "Remember when we saw Titanic how mad I was at Kate Winslet when she climbed out of the lifeboat and back into the ship? I think she encumbered Leonardo DiCaprio. If she had gone on the lifeboat, then he could have had that piece of wood she was floating on and they both would have survived. I would never do that to you."
― Tina Fey, Bossypants
8. I love you more than I hate everything else.
― Rainbow Rowell, Landline
9. To keep your marriage brimming, with love in the wedding cup, whenever you're wrong, admit it; whenever you're right, shut up.
― Ogden Nash, The Best of Ogden Nash
10. After all these years, I see that I was mistaken about Eve in the beginning; it is better to live outside the Garden with her than inside it without her.
― Mark Twain, The Diaries of Adam & Eve
Images: mybookbath/instagram, Giphy (11)