Is Glossier's Haloscope Part Of The Phase 2 Set?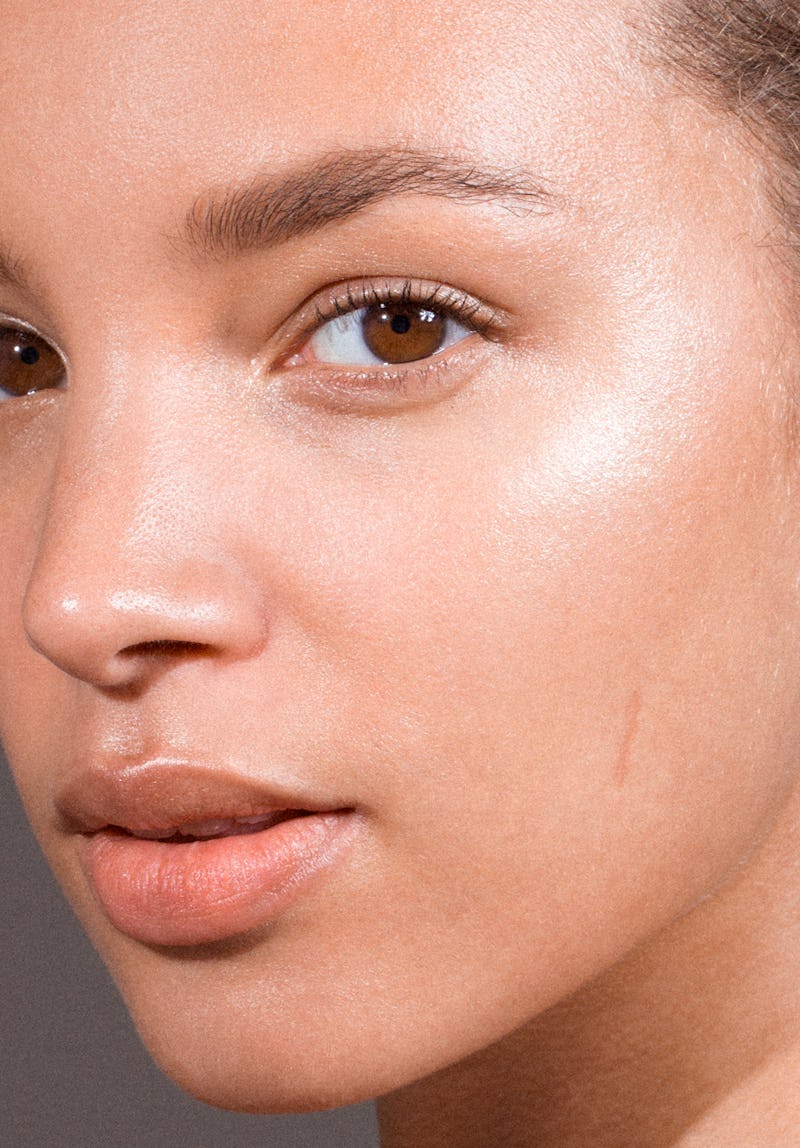 Glossier's Phase 2 makeup set boasts three items. The Glossier Phase 2 Set is also the "makeup second" element of the brand's "Skin first, makeup second" mantra. GP2S boasts the best basics and includes the Boy Brow pomade, a shaper and a "filler inner," the Stretch Concealer, which mimics skin and hides any blemishes, and the Generation G lipsticks, which are just-kissed, matte tints. Glossier just launched the Haloscope highlighter in two shades — the pink, pearlescent Quartz and the safely sun-kissed bronze Topaz. Currently, the 'Scopes are sold individually, like all Phase 2 products, and for $22 a piece. But will they be added to the all-in-one set that you can purchase?
UPDATE: Glossier reps responded to Bustle via email, letting us know that "Haloscope will not be included in the Phase 2 Set." Glossier PR pointed out that Haloscope "is a great addition to Phase 2 and is in the same Glossier Makeup family as P2, despite not being a part of the set."
As of right now, the Phase 2 set is sold out, but it's still listed as $50 and still features the three aforementioned products and only those three aforementioned products. Haloscope has not been added to the complete set just yet. But will it be... eventually and upon a restock? Or will it simply be a product that is sold on its own?
That remains to be seen. Bustle reached out to Glossier PR reps to find out the scoop about the Haloscopes and to see if they will be part of the Phase 2 set in the future. We'll update you once we hear back from the team.
In case you've yet to make their acquaintance, this is Quartz and Topaz. The latter is laying on its side and the former is standing upright.
Glossier provided this handy dandy face map, which illustrates the best facial real estate for applying the product. I've been swiping my finger over the stick and dabbing the product on those hard-to-reach spots.
This is the Phase 2 Set. Each item is also sold separately. But wouldn't it be cool for the Phase 2 Set to get an upgrade, courtesy of the addition of a Haloscope?
On the Glossier site, Haloscope is listed with the "makeup" products, while the Balm Dotcom and the Perfecting Skin Tint, which is a tinted moisturizer, are categorized with the skincare products.
This is the screen grab for Phase 2. It's sold out, but Boy Brow and Stretch are sold on their own still. When the Phase 2 set restocks, will it be updated, in size and in price, with Haloscope?
Time will tell.
Images: Courtesy of Glossier (4)