The Do's and Don'ts For Embracing Summer Shine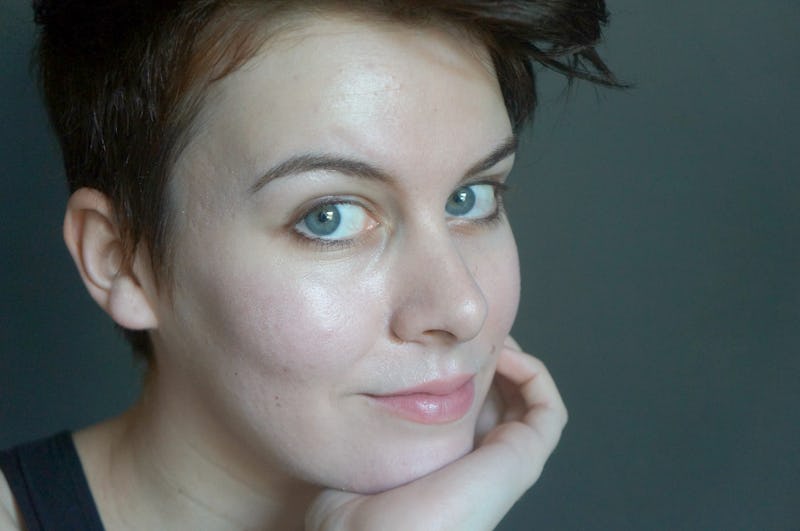 Whether you have dry or oily skin, everyone's face tends to get a little shiny in the hot and humid summer months. It's really nothing to be ashamed of. In fact, you may find that you like the way your sweaty skin looks if you decide to embrace the shine! After all, what's the point of piling on tons of primer, powder, and setting spray when it's all just going to slide off by the end of the day anyway? For most of us, we're fighting a losing battle. Sometimes it's easier to just lean in and turn your sweatiness into an intentional look.
Luckily, current beauty trends are on your side: the dewy, glowing beauty look has been big for a while now, both on the runway and off. Matte skin was left in the '90s and frankly, I'm content to let it sit there for a while longer. While everyone else is loading their shopping carts with the latest highlighter, that radiance just comes naturally to those with oily skin. There's no better time to get your glow on than in the summer, so here are six ways to embrace sweaty skin this summer, broken up into easy Do's and Don'ts!
1. Don't skip moisturizer.
First Aid Beauty Ultra Repair Hydrating Serum, $36, Sephora; Drunk Elephant B-Hydra Intensive Hydration Gel, $52, Sephora
Instead, just switch to something a little bit lighter than your usual winter cream. A gel moisturizer or serum is a great option in the summer months. I really love Drunk Elephant B-Hydra Intensive Hydration Gel; it's extremely lightweight and absorbs quickly, leaving your skin ready for makeup. If you're on a budget, a similar but less expensive option is First Aid Beauty Ultra Repair Hydrating Serum. This one is also a very lightweight gel that will keep your skin hydrated but not greasy.
2. Don't use heavy foundation.
It Cosmetics Bye Bye Undereye Concealor, $24, Sephora; Dr. Jart+ Premium Beauty Balm, $39, Sephora
Nothing feels worse than having a heavy foundation sliding around your sweaty face during a hot summer day. Instead, protect your skin and even out your skin tone with a light BB cream. My current favorite is Dr. Jart+ Premium Beauty Balm because it evens out my skin while giving it a nice glow (and it has SPF 45). Then, if you need to, use a concealer to spot-correct. I've switched to IT Cosmetics Bye Bye Undereye Concealer. This is a very thick, full-coverage, waterproof concealer. At first I thought it was too thick and tacky for me to blend on my dry skin, but if you warm it up with your fingers first it's much easier to blend. I have a lot of redness and it covers that perfectly without budging all day.
3. Don't bother with eye shadow.
Make Up For Ever Aqua XL Waterproof Eye Pencil, $21, Sephora
I don't know about you, but my eyelids tend to get very oily even when it's not hot out. I simply can't be bothered with even the simplest eye shadow look in the summer because I know it won't last long even with a great primer. Instead, I like to rely on seriously budge-proof eyeliner to define my eyes and even add a pop of color if I want — and I mean pencil eyeliner, not liquid eyeliner because I am not messing with a cat-eye when I'm getting sweaty. I think the best by far is Make Up For Ever Aqua XL Waterproof Eye Pencil. This new line comes in 20 shades, including neutrals and fun colors, and once applied it will not budge.
4. Do use highlighter strategically.
Becca Shimmering Skin Perfector, $41, Sephora
Sweat is a pretty good natural highlighter on its own, but if you dab a bit of shimmering highlighter on your cheekbones it will create an intentional beauty look in place of an all-over sheen of sweat. My favorite highlighter is Becca Shimmering Skin Perfector (I currently use Pearl but you can't go wrong with any of the shades). It's not too shimmery, but gives just enough to make it look like you have an inner glow. If you have oily skin you may want to use the pressed version of this highlighter rather than the liquid. Avoid putting any highlighter along your T-zone (meaning your forehead, nose, and chin). In addition to your cheekbones, tap some on your temples, brow bone, and cupid's bow.
Palladio Rice Blotting Papers, $6, Amazon
To keep the focus on the areas that you want to shine, i.e. the areas you just covered in highlighter, blotting sheets are a necessity in the summer. You can use them to control oil and shine along your T-zone without messing up your makeup or caking your skin with powder. Best of all, they're cheap and it's easy to bring them with you everywhere for touch-ups. You can find blotting sheets at any drugstore or even just use Starbucks napkins, but my favorite that I've tried is the Palladio Rice Paper Blotting Tissues. They have a bit of rice powder to help absorb oil and keep things matte.
Tony Moly Lip Balm, $10, Urban Outfitters
Who has time to bother with lipstick in the summer? There's swimming to be done, ice cream to be eaten, and people to make out with. Traditional cream lipstick will slide right off, and the matte liquid lipsticks that are popular right now (sup, Kylie?) can be uncomfortably dry and heavy. Instead, give your lips a natural flush of color that will fade evenly with the help of a tinted lip balm. I really like this adorable Tony Moly Cherry Lip Balm: it looks and smells like a cherry, and gives a subtle hint of color while hydrating your lips. Plus it has SPF 15! You can easily touch it up throughout the day or just let it fade, but it will look good no matter what because it won't leave you with an awkward ring of leftover lipstick on the outside of your lips.
Here I am wearing all of the products I talked about above:
In the end, it's a very easy and natural-looking beauty look that I stick to pretty much every day in the summer. I don't feel the need to hide every flaw with foundation or banish shiny skin with tons of powder in the summer. I would much rather embrace my skin's natural summer glow — and if you would too, now you know how to do it.
Images: Kelly Dougher