Can 'Cursed Child' Stay Spoiler-Free?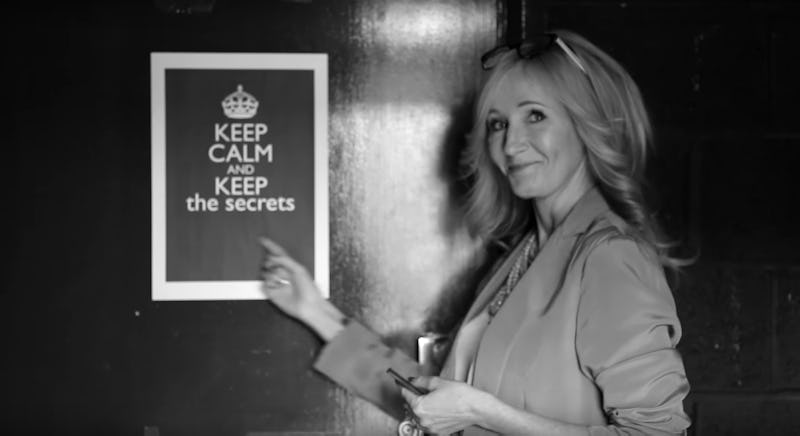 If the air felt a little different when you woke up on Wednesday morning, that's because we're now living in a whole new world — a world in which Harry Potter and the Cursed Child exists, and has been seen by actual Muggles. Just think, there are now more than 1,500 Potterheads walking around London who know exactly what happens in The Cursed Child . They know which house Albus Severus is in. They know how Ron and Hermione's marriage is going. They know everything.
It's almost two months until the Cursed Child script is available for the rest of us No-Majes to buy, which means that the next few weeks have the potential to be a spoiler-filled battlefield. Like, maybe we all need to equip ourselves with noise-cancelling headphones and go camp out in the woods where there's no WiFi. This is serious business, you guys.
But you know what's even more powerful than headphones and severely restricted Internet access? The word of J.K. Rowling. And she has spoken up in our defense. In a video from The Cursed Child 's official YouTube channel, the magical word sorcerer herself urges the lucky audiences who have already been whisked back to Hogwarts to "keep the secrets" — just as we did throughout the books' ten year run.
Of course, that's not how the world works; in reality, the Internet is already filled with plot spoilers that I may have spent hours tracking down. (Guys, I know all of it now.) But out of respect for everybody with greater willpower than mine, keep the secrets. Don't post spoilers on Twitter. Keep the magic to yourself — for just a few more weeks. And then I promise, we can have all the Harry Potter chats and Cursed Child fan theory debates your little Muggle heart desires. In the words of the OG Albus Dumbledore himself: "I ask only a little patience."
Image: Harry Potter and the Cursed Child/YouTube