'There Goes The Motherhood' Season 2 Should Happen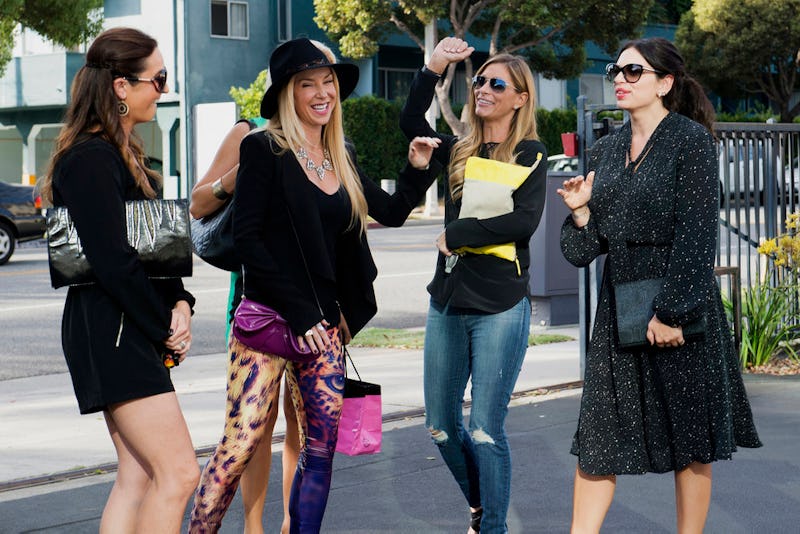 I can't fully explain how conflicted I feel about an "exclusive" motherhood group. On the one hand, all moms need a circle of support, and they deserve to find one without outside judgement. On the other, there's just something icky about treating a new-moms group like a club with a red-velvet rope, only allowing access to a privileged few while denying others. Yet the mommy group on There Goes the Motherhood trades on its exclusivity. Did that turn off viewers, likely other moms who can't get into leader Jill Spivack's "highly coveted" baby-rearing course, or will There Goes the Motherhood be renewed for Season 2?
So far, the network has kept — if you pardon the expression — mum about whether or not There Goes the Motherhood will return for another season. According to Premieredate.tv, "The series has a 5.1/10 score on IMDb, indicating mixed reviews. It has premiered to 532,000 viewers with a 0.2 rating in the 18-49 demo, and has lost 100,000 viewers by the fourth episode." That doesn't look good for renewal. But, don't lose hope yet, TGTM fans. Here are some reasons why, if it doesn't get renewed, the show will be missed. And, maybe these will be enough to help it stick around.
It Puts Moms Front And Center
If you think about it, there aren't that many reality shows out there that puts motherhood at center stage. It's good for mom visibility, and seeing the struggles of other moms can be cathartic for new parents.
But, They're Still Individuals
Yes, the ladies are all moms, but, in typical reality-show fashion, their personalities shine through as well. "Mom" isn't their only defining character trait.
It Highlights The Seductive Dangers of Mom-Shaming
Mom-shaming seems to be America's national pastime, especially on TV, and it's so easy to do — especially when you have a bunch of high-net-worth moms airing their dirty laundry on TV. If viewers can train themselves to reserve judgement from these women, they can conquer the urge to mommy-shame for good.
It'll Make You Feel Good As A Mother
Sometimes, as a mom it's easy to think if you just had more free time, or more money, or whatever, it would all be so much easier. There Goes the Motherhood shows no, it's not really easier — just different — so you don't have to worry. You're doing fine.
Images: Nicole Weingart/Bravo; alisastarler/Instagram; iambethbowen/Instagram; stephanie.fair/Instagram; jenbushofficial/Instagram