21 Songs Every Bookworm Will Love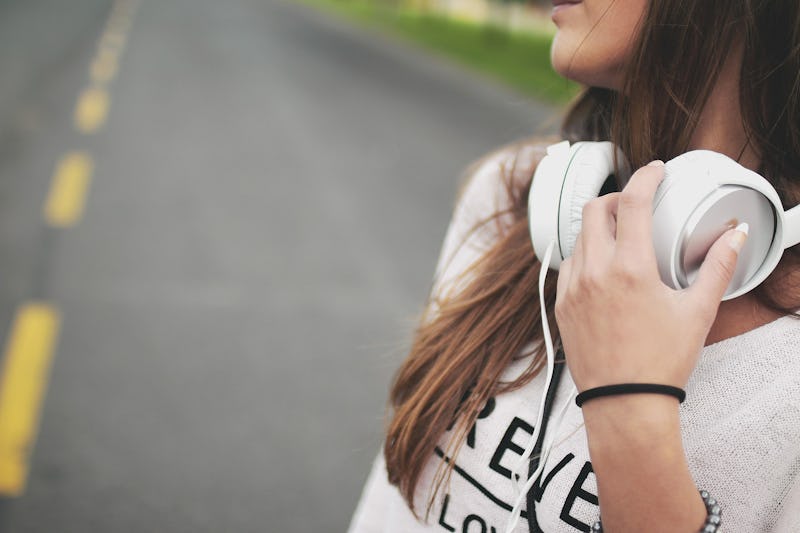 Admit it: books and music go hand in hand. Both art forms are great at reaching into your most special places, and with both, you're often rushing to share your new discoveries. I, like many others, listen to music constantly, but especially when I'm reading or writing.
Some of these songs make references to specific books, from Sherlock Holmes to 1984. It's easy to see that so many famous musicians have been inspired by the books they've read. Not to mention, the authors that have been inspired by music.
Other songs on this playlist are about the reading life. That feeling of wanting to climb up into a book and read instead of dealing with your problems, the rush of sharing a book you've fallen in love with, or even fangirling over your new favorite author.
Plus, so many of these songs use books as a metaphor for love, or talk about relationships that are centered around books. I'm pretty sure every single book nerd is dying for an SO who's as obsessed with books as they are, so get ready to swoon!
Whatever your taste, perk up your ears to these fantastic literary tunes, sure to get your feet tapping and the pages turning.
1. "Wrapped Up In Books" by Belle and Sebastian
If there's a phrase that describes me, it's "wrapped up in books."
2. "I'm Writing a Novel" by Father John Misty
While this one is pretty snarky, you can't help but tap your feet along to it.
3. "Do-Wah-Doo" by Kate Nash
"I'll just read a book instead," says Kate Nash. I think we can all empathize with that feeling.
4. "Flow Like Poe" by MC Lars
Really, the entirity of The Edgar Allen Poe EP is worth listening to, as MC Lars does a brilliant job of combining rap with literary lessons. In this track, he packs an entire poetry lesson into the catchiest song. If this stuff interests you, you'll love MC Lars's TED Talk.
5. "Young Adult Friction" by The Pains of Being Pure at Heart
From the title to the repeated line "Don't check me out," the word play game is strong with this one.
6. "Book Club" by Arkells
"You're my library, always open for business" goes this chorus. I love me a song about sharing books.
7. "Sylvia Plath" by Ryan Adams
This ode to the iconic poet/author is simply beautiful.
8. "Every Day I Write the Book" by Elvis Costello
An extended book metaphor, this is a must-have for any book-loving playlist.
9. "Typewriter" by Alicia Keys
With the typewriter rhythm that backs this track, it will be impossible not to write as you listen to this great song.
10. "The Book of You" by Belle and Sebastian
Another one by Belle and Sebastian, but I couldn't resist! This lovely song uses books as a metaphor for falling for someone in the sweetest way.
11. "Wuthering Heights" by Kate Bush
Ah, beautiful and strange, Kate Bush captures the spirit of Emily Bronte's Wuthering Heights in this cool song.
12. "1984" by David Bowie
Inspired by George Orwell's 1984, this song will certainly have you on the lookout for Big Brother.
13. "I Could Write the Book" performed by Harry Connick, Jr.
This classic jazz tune originally from the 1940 musical Pat Joey will have every reader swooning.
14. "Paperback Writer" by The Beatles
One of the most well-known book songs, no playlist would be complete with this hit from The Beatles.
15. "A Bad Feeling About Anna Karenina" by Phoebe Kreutz
Anyone who has cracked open Tolstoy's Anna Karrenina will empathize with Kreutz's need to tell Anna things are going to go bad.
16. "Reluctant Readers Make Reluctant Lovers" by Library Voices
Not only is their band name delightfully bookish, but Library Voices makes a pretty good point with this one.
17. "Sherlock Holmes" by Sparks
"Just pretend I'm Sherlock Holmes." I'm not sure Holmes actually has the greatest handle on love, but Sparks will certainly make you believe so.
18. "Sonnet 43" by Rufus Wainwright
Darling Rufus Wainwright recorded haunting musical interpretations of Shakespeare's Sonnet 43, Sonnet 20, and Sonnet 20. Like everything Wainwright does, they're graceful and strange in a wonderful way.
19. "We Are All Accelerated Readers" by Los Campesinos!
A great song about talking about books, though in this case it poisons a relationship. Love it!
20. "The Book I Read" by Talking Heads
"I'm embarrassed to to admit it/there's a soft spot in my heart/when I found out you wrote the book I read." Me too, Talking Heads. Me too.
21. "What A Piece of Work is Man/How Dare They Try" from Hair
One of the most famous adaptations of Shakespeare into song, this monologue from Hamlet gets new life when it's integrated in Hair.
Images: Foundry/Pixabay