What Was O.J. Simpson's "Run"? The 1967 Touchdown Play Made Him A Household Name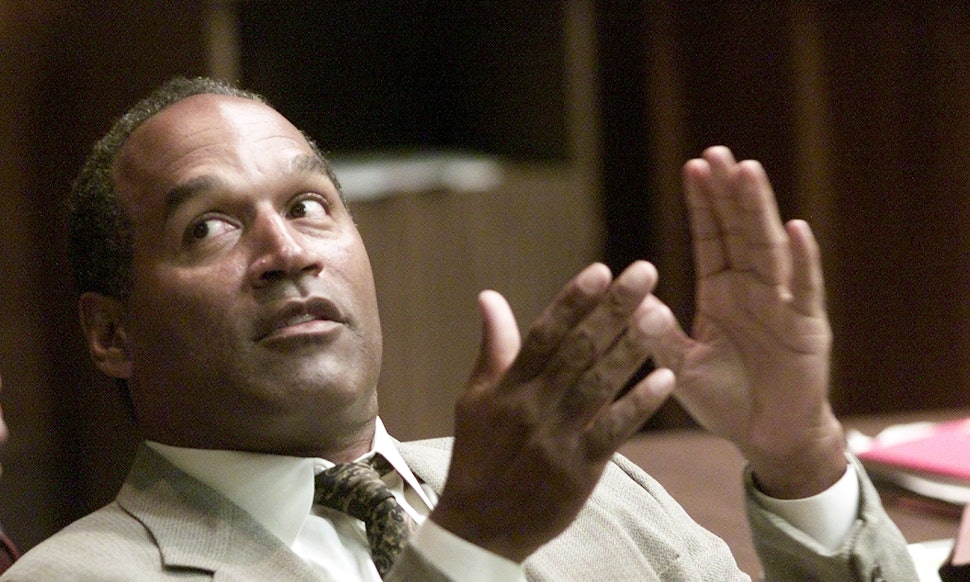 Pool/Getty Images News/Getty Images
Today, when most people hear O.J. Simpson's name, the first thing that jumps to mind is the tragic murders of Nicole Brown Simpson and Ron Goldman. Although Simpson was ultimately acquitted of both murders, the proceedings are considered the trial of the 20th century and the photo of Simpson trying on the infamous gloves is perhaps the most famous image of him. But, the reason the trial gripped the nation was because the defendant was a revered football star who had played for the Buffalo Bills and The San Francisco 49ers. In fact, the athlete was a household name before he even joined the NFL. O.J. Simpson's famous "run" is what put him on the map as a football star.
Simpson was a member of USC's football team for the 1967 and 1968 seasons and he won the Heisman Trophy for the latter season. "The run" is his most famous play and the NFL still regards it as one of the greatest college football plays in history. So, what exactly happened and why was it so important? During a championship game between USC and their ultimate rival, UCLA, there were 10 minutes and 38 seconds left and USC was lagging, as reported by The Los Angeles Times. When USC quarterback Toby Page audibled a run play for Simpson, he "veered to the left sideline and then cut back to the middle to run 64 yards for a touchdown." Here's a clip of the historic play:
rwaley on YouTube
As a result of the touchdown, USC won the game 21-20 and headed to the national championships. The magnitude of the play catapulted Simpson to fame. The Detroit Free Press quotes Jeffrey Toobin as saying: "If you were a football fan in the late '60s and somebody said to you, 'Do you remember the run?,' it was just one run. It set O.J. apart from everyone." (Toobin is a legal analyst for CNN and the author of The Run of His Life, which is inspired Ryan Murphy's recent series The People v. O.J. Simpson: American Crime Story.)
Although he had many successes at USC, "the run" is the most symbolic because it marked a turning point in Simpson's football career and his life. It established him as a rising star to watch and, as Toobin noted, it got football fans everywhere talking about him. Simpson was drafted by the Buffalo Bills in 1969 and went on to have a successful NFL career. People thought of him as the epitome of speed — Simpson's Hertz commercials famously depict him running through the airport at lightning speed.
Jean0987654321 on YouTube
And, of course, the "run" took on a whole new meaning when Simpson was involved in chase with police in a white Bronco before being charged with the murders of Brown Simpson and Goldman, of which he was later found not guilty.