The Official Chart Of 2016 Celeb Endorsements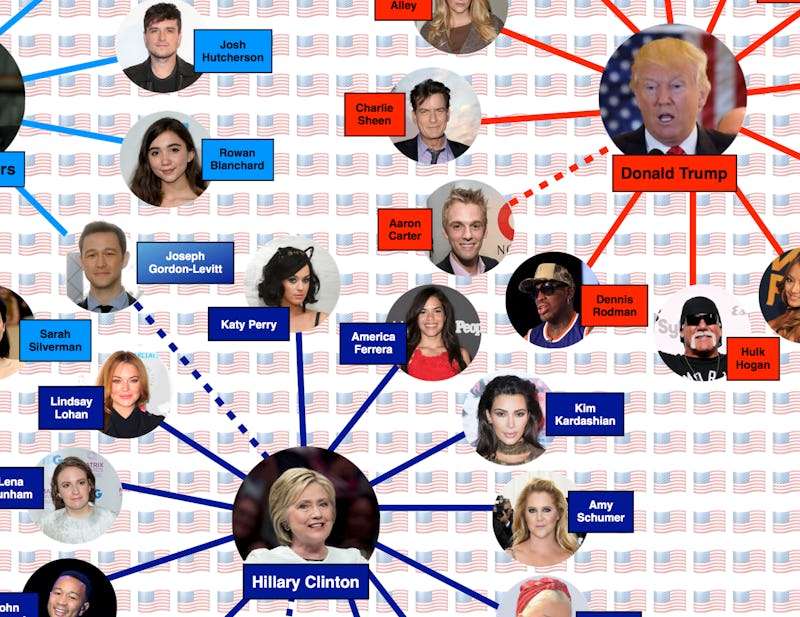 With the 2016 election in full swing, the battle among the candidates is growing by the day. While Hillary Clinton made history on June 7 by becoming the first female presumptive nominee for a major political party, Bernie Sanders and his supporters haven't given up hope. It's not just your family and friends who are invested in the election; celebrities are equally involved. From the more vocal (like Rosario Dawson for Sanders) to the flip-floppers (such as Aaron Carter for Trump), there's a whole range of celeb endorsements. There are also plenty of people who have been chanting #ImWithHer since the beginning of Clinton's campaign. So, which celebrities are endorsing which candidates?
Considering there are tons of famous people in Hollywood, it can be tough to keep track of where celeb allegiances lie. Luckily, I've decided to compile everything you need to know in a chart. It's pretty straight-forward, where lines connect the celebrities to the candidates they've publicly endorsed. Each candidate is represented by a different color. But wait, what are those dotted lines? Those indicate celebs who have been hesitant to support candidates or have already spoken out about changing their allegiance. For example, Joseph Gordon-Levitt initially voted for Sanders, but following the news of Clinton's presumptive nomination, he posted the following tweet.
Meanwhile, Britney Spears met HRC and originally tweeted #ImWithHer, but removed the hashtag and kept the photo. Can't forget about Aaron Carter, whose support of Trump has been a bit all over the place. I think everybody else is just as confused by the situation as he is.
But enough about the "I Want Candy" singer. Here's a web of celebrity endorsements for the 2016 election. (Don't forget to click the image to enlarge!)
Of course, you shouldn't let your favorite celebrity dictate who your favorite candidate is. But maybe they can inspire you to cast a vote too — no matter who you pick.
Image: Jamie Primeau/Bustle; Getty Images