The Kylie Cosmetics Logo Looks A Bit Different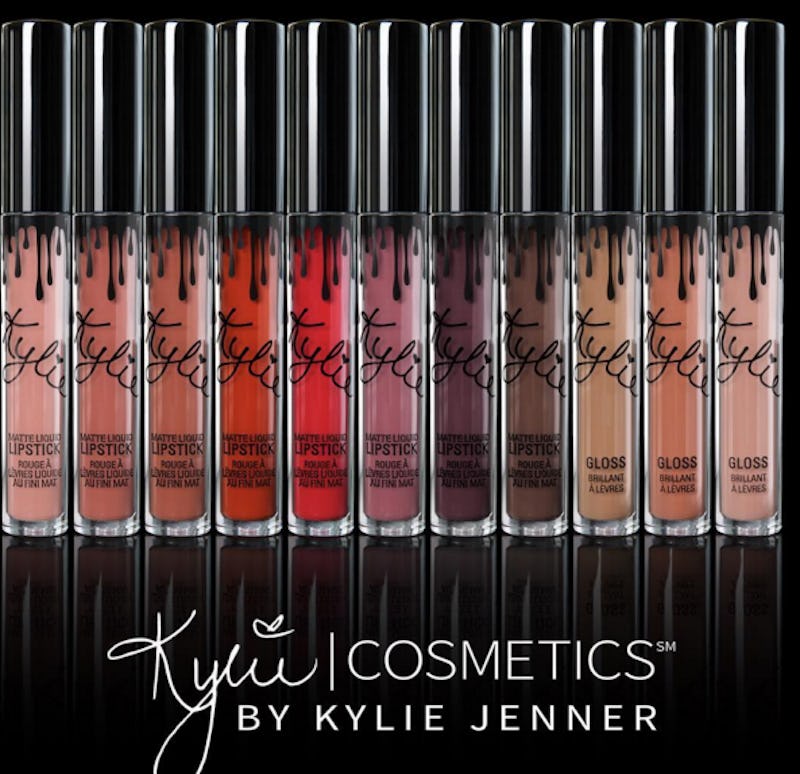 There are a lot of reasons to celebrate the latest shade to be released from Kylie Cosmetics. Not only is it super unique, but it's also the first shade to be created at the request of fans. Kylie Jenner's so excited about the black matte shade, in fact, that she's changed the Kylie Cosmetics logo.
Instead of the signature white lippie dripping from the infamous lips, it's now a matte black shade that likely references her newest Lip Kit, Dead Of Knight. I'd be willing to bet that this isn't a permanent change, but is rather just to celebrate the fact that the product is launching on June 10. But, honestly, I wouldn't be too surprised if she decided to keep this black version of the logo around for a little while. She does love to wear the color in her everyday outfits, plus the matte lippie looks incredible when slicked on her lips.
She drops shades unannounced, launches products with barely any notice and apparently changes the company logo whenever she feels like it. But, when you've got a company as well known as hers, you can do what you want. And honestly, this shade is worth celebrating, so I don't blame her one bit for wanting to coat everything in Dead Of Knight.
She's had killer packaging since day one, so she wouldn't switch things up too much.
As you can see, she's just swapped out the white color for black.
She's made the change to her website and to the brand's Instagram account.
But, that's likely only because these lippies are so special.
It's the most dramatic shade out of the entire collection.
This black shade was heavily influenced by her fans.
But, she also did it for herself. To realize a dream of hers.
A lippie this special is worth changing the logo for, you know? At least for a little while.
Images: screengrab/Kylie Cosmetics (1); kyliecosmetics/Instagram (1)